Our Christmas Display is a family oriented celebration of the Christmas Season. It is held on a private one acre corner lot, in a wonderful rural setting. It features a fully choreographed Music and Light Animation Show. It is an artful blend of Holiday Traditions of the Season, and Technology, creating a truly magical spectacle of light and sound. It is an outdoor experience, that allows you to walk around the perimeter of the property to enjoy the many custom crafted vignettes.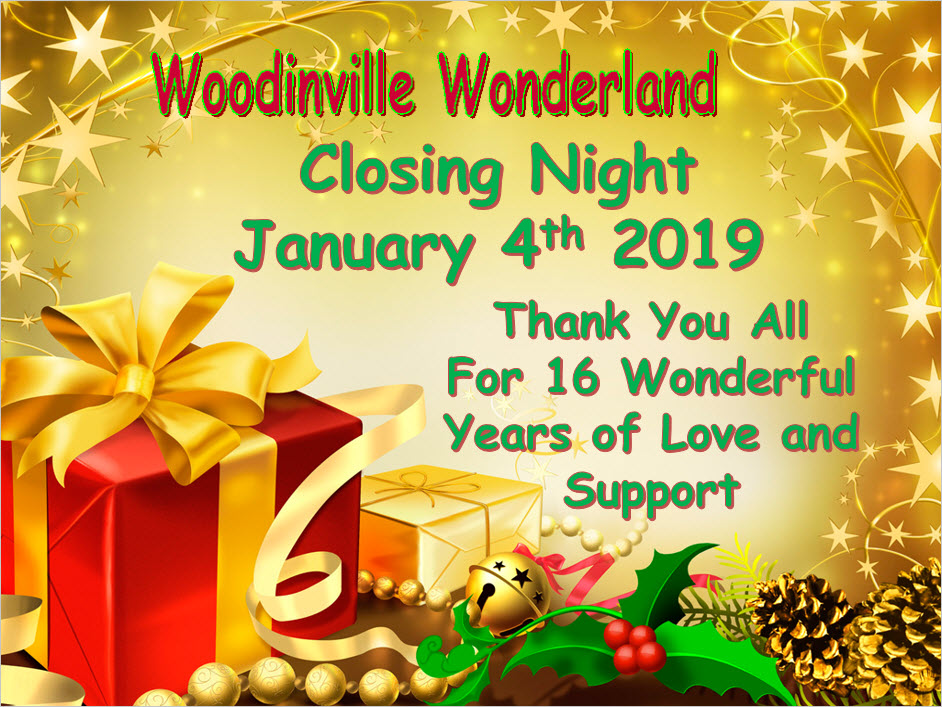 Woodinville Wonderland is now closed forever. This site, and the Facebook Page will remain in tact for historic, documentation and update purposes. Our Blog will updated periodically to keep abreast of our progress
Thank you for all your LOVE and support.

We want to thanks Pacfic NW Christmas Lights for awarding us this honor,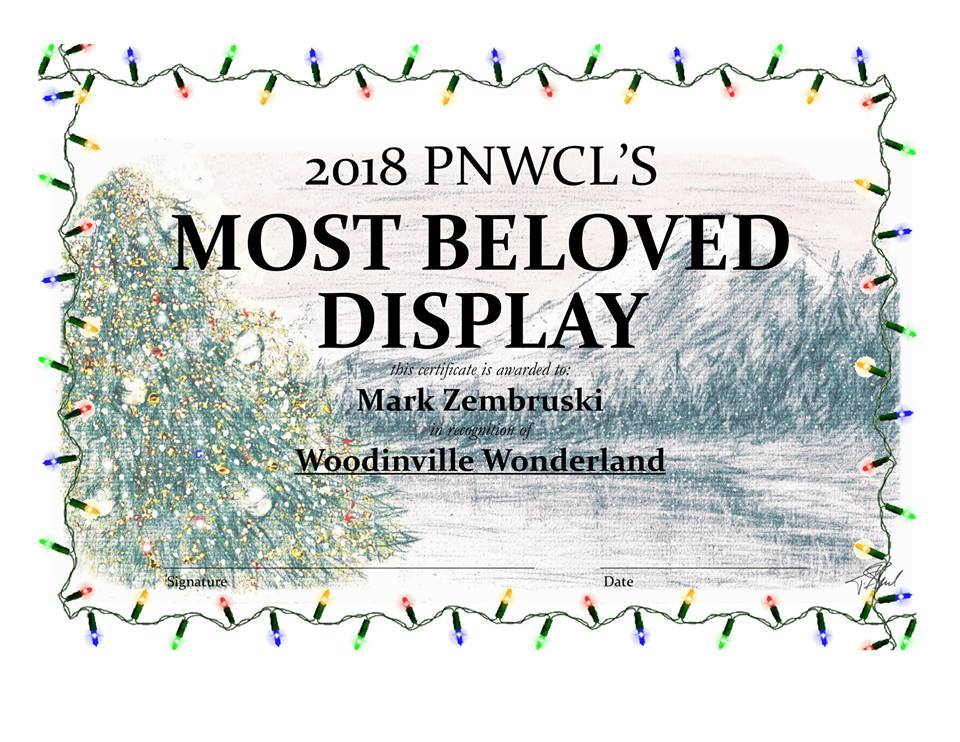 We were recently interviewed by Carolyn Ossorio of KIRO for her Daily Dose of Kindness. You can listen to the brief interview HERE
Check out our
Blog
or
Facebook
page for updates.
See our
Press
link to see other articles, and interviews about our display. A new Walkabout video was added to our Video page on 2/24/15. You can directly access it by clicking HERE
There is a GREAT listing of Pacific NW Display's both private and commercial that can be found at the following Facebook Page:
Pacific NW Christmas Lights

Our charitable efforts were provided to:
Special Olympics of Washington and the Northshore Wranglers.
Woodinville Wonderland is a privately funded display. 100% of the donations received during the season, are given to these very worthy causes.

The Northshore Wranglers are the areas local SOWA team. We made the decision in 2010 to split our donation total, with 50% going to the Wrangler team. Woodinville Wonderland is very proud to be working with both charities!

2018 is our 12th year collecting donations for: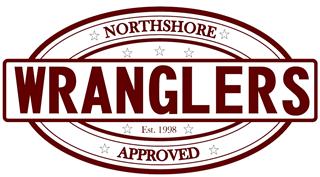 2018's donation total came in at $7888!
Over the years, we have collected over $65K for these worthy causes!
Thank You! Thank You! Thank You! for your patronage and generosity!


Send us an email with your thoughts and comments

Christmas Enthusiast Prayer:

As I untangle strings of Christmas Light, Lord help me to remember that I do this first to honor You. Never let me get so prideful of my display that I fail to see the wonders in the eyes of a child, or the joy on the faces of those who are still children at heart. Never let me forget that my total effort is to make Christmas Memories, bring cheer, and, to slow down the pace of a hectic Season, if only for a moment. And Lord, someday when I meet you face to face, may I hear you say: "When you made My People smile, you made Me smile"
Author: Mira Moore





Copyright 2006 - 2019 Woodinville Wonderland