Follow us/Like us on Facebook
Our Christmas Display features fully choreographed Music and Light Animation, artfully blended with Traditions of the Season. Located in a wonderful rural setting. Creating Christmas Memories and Holiday Traditions. It truly is worth experiencing.


We are now focused more the display for 2014. Work is already underway for planning and prepping. Starting our second decade of going big, we wanted to do some changes for 2014. Check the site often,

we will update it a bit more regularly, including more details in the

Blog

. There is a lot of great information, updates and a behind the scene look-see, feel free to peruse the entire site.


Light Up! or Opening Night!
Is still planned for Dec 1st for now. Check this site and Facebook for any updates.

I was asked to write an article for Planet Christmas Magazine. You can check out my first attempt at being an author, click on the link.
Woodinville Wonderland is located at:

23620 NE 183rd St - Woodinville, WA 98077

Directions/Map Below
See our Press link to see other articles, and interviews about our display.

2013 was our 7th year collecting donations for:





Woodinville Wonderland is a privately funded display. 100% of the donations received during the season, are given to this very worthy charity.
2013 Total to Date - $7574!!!
Thank You! Thank You! Thank You! for your patronage and generosity!

There is a local Northshore SOWA team, called the Wranglers. SOWA made the decision in 2010 that half of my proceeds will go to my home town Wrangler team. I am very excited that SOWA made this decision to benefit the Northshore Wranglers!

We are located Approximately 3 miles west of Duvall, just off Woodinville/Duvall Road, and 8 miles east of Downtown Woodinville
Click on the map below for more a more detailed view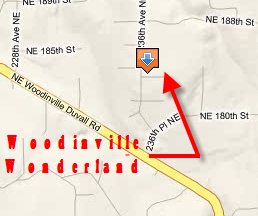 Christmas Enthusiast Prayer:

As I untangle strings of Christmas Light, Lord help me to remember that I do this first to honor You. Never let me get so prideful of my display that I fail to see the wonders in the eyes of a child, or the joy on the faces of those who are still children at heart. Never let me forget that my total effort is to make Christmas Memories, bring cheer, and, to slow down the pace of a hectic Season, if only for a moment. And Lord, someday when I meet you face to face, may I hear you say: "When you made My People smile, you made Me smile"
Author: Mira Moore





Copyright 2006 - 2014 Woodinville Wonderland