Follow us/Like us on Facebook
Our Christmas Display features fully choreographed Music and Light Animation Show. Artfully blended with Traditions of the Season, and Technology. Located in a wonderful rural setting, on a one acre corner lot. We strive to creating Christmas Memories and Holiday Traditions. Thousands will see us each year, as it truly is worth experiencing.

Make plans to see us December 1st 2016



Woodinville Wonderland is located at:
23620 NE 183rd St - Woodinville, WA 98077

Directions/Map Below

We are already underway for the 2016 Season. Set Up! started October 2nd. Check out our Blog or Facebook page for updates.
Peruse our many pages for additional information about our Display
We had some press on our difficulties of the 2014 Season, check them out:
Puget Sound Business Journal
-
KIRO TV
& the
Woodinville Weekly
I was asked to write an article for Planet Christmas Magazine. You can check out my first attempt at being an author, click on the link.
See our Press link to see other articles, and interviews about our display. A new Walkabout video was added to our Video page on 2/24/15. You can directly access it by clicking HERE

Our charitable efforts for the Season are provided to:
Special Olympics of Washington and the Northshore Wranglers
Woodinville Wonderland is a privately funded display. 100% of the donations received during the season, are given to these very worthy causes.

The Northshore Wranglers are the areas local SOWA team. We made the decision in 2010 to split our donation total, with 50% going to the Wrangler team. Woodinville Wonderland is very proud to be working with both charities!

2016 is our 10th year collecting donations for: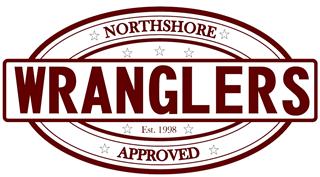 Our Season total for the 2015 Season, we have collected - $7437!!!
Thank You! Thank You! Thank You! for your patronage and generosity!

We are located Approximately 3 miles west of Duvall, just off Woodinville/Duvall Road, and 8 miles east of Downtown Woodinville
Click on the map below for more a more detailed view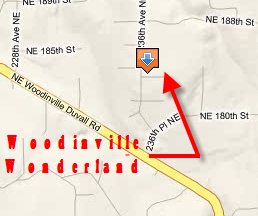 Send us an email with your thoughts and comments

Christmas Enthusiast Prayer:

As I untangle strings of Christmas Light, Lord help me to remember that I do this first to honor You. Never let me get so prideful of my display that I fail to see the wonders in the eyes of a child, or the joy on the faces of those who are still children at heart. Never let me forget that my total effort is to make Christmas Memories, bring cheer, and, to slow down the pace of a hectic Season, if only for a moment. And Lord, someday when I meet you face to face, may I hear you say: "When you made My People smile, you made Me smile"
Author: Mira Moore





Copyright 2006 - 2016 Woodinville Wonderland