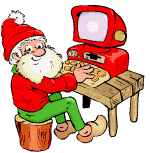 Copyright 2008 - 2018 Woodinville Wonderland



4-1-18 - WOW this is no April Fools at how long its been since an update. A lot of water under the bridge. First, along with April Fools, it Easter too, so Happy Easter! Lets see if I can update you. I had computer issues with Microsoft Office and in trying to fix that problem, my Expression Web software install was toasted, and that is what I use to manage this page with. Lets see if I can update you. The Display is all down, and 99.99% put away. Got that done around the end of Feb. The donation proceeds were submitted. We came in at $7486 after all the counting and Matching Funds. While we are always glad we can provide funds to these worthy causes, the weather of Christmas Eve and the Display shutdown Christmas Night took its toll. Those are 2 of our busiest nights. Visitation always falls off after Christmas, and this year was typical, so we could not make it up. It was still a phenomenal effort with the generosity of our guests. After all the Display stuff, I then quickly kicked into gear the Honey-Do list around the house. Lots to do there. Tracy went to Florida for 2 weeks and I just did stuff around the house on that list. On that list, something somewhat display related is the Road Arbor. It was dilapidated and needed to be torn down to rebuild. The trees outlining it were not doing well, so they came out as well. The arbor is a WIP with wood bought and the main posts cut and prepped to make the sides. Yard work is underway, and the lawn needs some attention. There is a lot bare spots and dead spots that need over seeding, but damn, the weather has been so crappy, I could only do the moss out, some raking/weeding and the early season mowing. While the weather gave us a break, I aerated the lawn as well. The hot tub needed restoring. So I made a rear shelf, re-did the stairs, sanded and re-stained the cabinet. Lastly a new cover was needed, so that project is done. All the concrete flat work needed pressure washing, done. Weeding of the planter beds, done. Spring Clean dump load, done. Taxes into the accountant, done. Our local Christmas gathering planning (CLAP) is underway for this month, on the 21st, and the national effort Christmas Expo has picked up planning as well. Our Chelan home is underway, and we hope to start the foundation this month.... So a whirlwind of activity to say the least has been going on during the first quarter of the year. The Chelan house may consume me some this year, we will have to wait and see. My niece and her family were here for 5 days. We had a whirlwind time with them driving all over including a night in Chelan. So all the touristy stuff was done with them, as Michelle had not been here for 22 years, and her husband Robert and 2 daughters never. We had a great time, but am bushed, as I got them to the airport an Zero Dark Thirty this morning. Now I feel a tickle in my throat, so today just kicking back and taking it easy. So it was a good day to get caught up, which is just what I did. I hope to have a few more updates, but for now, there is only family, work and life, as I need to put Christmas aside except for CLAP and Expo. Oh yeah, I get to go back to India in June, woo-hoo, looking forward to that like a wisdom tooth being pulled..... Sorry for taking so long, check in again.


1-17-18 - Well some greatly needed downtime has been taken. We took a few nights off to ensure folks knew we were in fact Closed. I was going to fire things back up Friday the 5th, but Mom Nature had other ideas in mind. So we cranked 'er back up on Sat the 6th to get video, pictures and attempted some,... ugh, drone footage. Mrs Claus got me a drone and was asking for drone footage of the Display. Since Christmas Day, schedule, and weather were not conducive to flying. After trying to get Zdrone configured, calibrated, and in the air for some stick time was difficult. Sadly to report that night, we had a fairly major crash that was documented in video (and posted to the Facebook page) Our Zdrone had to be sent back. There was some issues with the calibration that contributed to the crash. Anyway, its back at DJI getting fixed, and our ego is bruised. Mrs Claus was disappointed as was I. Last weekend we spent in Lake Chelan at Winterfest with our Friends the Craig's. We checked our property, played in the snow, did some wine tasting and relaxing. So not all has been fun, games and kickback. All the communications and controllers in the yard, along with the major Santa Power Panel and Power Grid extension cords from the yard are inside and somewhat put away. The "infrastructure" items, cones, signs and Donation Box are down and away. Our Formal Nativity is put away, and some of the Blow Molds are on the porch waiting their turn. However if you came by today, it would still look like it could be fired up, but alas, it is WAY beyond able to do that. This weekend will be a big 2 day affair to get as much down as possible. It is not unusual to have Tear Down! go into February. I need to finalize our Donation totals, and am waiting for my company to open up the Matching Funds Program for the year. However with the fact that Christmas Eve and Christmas were a bust, our totals won't surpass last year. We still had great support for our Charities. Work is back in full swing, and ramping up. The rest of the year will prove to be interesting as always. Thanks for giving us a peek to see how we did. Check back soon for more updates.


1-3-18- Happy New Year everyone! 2017 is becoming a distant memory, and a new journal with open pages is in front of us to create a wonderful 2018. Closing Night is always a bit sad, but I had a special visit from one of my best decorating buddies, Kevin "Wirekat" Thomas of Christmas in Kent. Alas, this is his last year for that display, and I did not get a chance to see it. Later in the evening, I started pulling in cones, signs, trash cans etc... That is my signal to the neighborhood that the display is officially shut down. I usually keep things dark for a night or 2, so folks know we are closed, however, I will be firing it back up to get some video of the display and pictures. Since I posted no pics from 2016, I want to ensure that I get some good documentation this year. Something I am contemplating is scaling back in 2018. With our house plans in Chelan, that may determine how much I get to focus on the Display for the 2018 Season. For now, I am back to work, trying to get caught up. I also have household end of year items to close out as well, then the dreaded taxes.... Tear Down most likely will commence this coming Sunday after I get the vids and pics. The following weekend is Winterfest in Chelan that we are going to attend, so evenings will be spent taking stuff down. No matter what I decide to do this coming Season, I still have to assess the state of elements. A lot of the Peanuts characters are again in need of patching/painting, Thomas the Train needs a transmission overhaul, there was a LOT of LED light failures on my Icicle Tree Forest, and sections on my Leaping Light Arcvhes as well. So there is a lot of off season work that needs to take place at some point. That is all for now, thanks for checking in.


12-28-17- Wow, where to begin... Christmas Eve started out awesome. My plan since I had volunteers that night was to have a pleasant dinner and game night with family. As the Display kicked off at 5pm, a light snow was falling. There was several families already out on the street. Not at all unusual for Christmas Eve as that is traditionally one of our busiest nights. Well, about half way through dinner, I got a text from a neighbor that the big hill to our place was getting dicey and cars were stacking up at the bottom. The temp dropped and made under the snow very slick. I jetted out, ran down the hill, slipped once on my butt, and saw a skating ring with cars at bottom and stuck in middle of hill. We shut the Display down, got the remaining visitors off the hill, then me and my buddies volunteering sat at the bottom directing traffic and ensuring Display visitors did not try the hill to add to the mayhem. Christmas we shut the Display down also as the raods were OK, but our immediate area was still unsafe. Two of our busiest nights, shot in the butt. I spent about 5 hours on Tuesday working on the Display walking areas, our driveway, and some of the area around the Santa Can. We were able to open up that night and had a good steady crowd. Most had not tried to make it the previous 2 nights. Then through the grace of one of my special elves, Jason Pittman, Tracy, myself, Don and Roxy Kohler were able to head over to Leavenworth for an afternoon of eating, wine tasting, shopping and fun. A great day. We came home Blewett/Snoqualmie Passes and the weather/roads were not too bad. So Mrs Clause got me a very cool drone for Christmas, so I hope to have some aerial footage of the Display. The weather report looks to now have rain in it for the next couple days.... We will see how things go. Our Donation totals are outstanding given the prospect of being closed 2 of our busiest nights. $7066 is incredible, and we only need a bit more to break last years $8288 total! Just amazing. Our visitors ROCK with supporting our Charitable efforts. Thanks for checking in....

12-23-17 - Merry Eve before Christmas Eve.... I have some errands to run today to complete my shopping for Christmas, and our Christmas Dinner. Man o man what a fun stretch run. My juice is getting a chance to talk to the visitors, joke around, and answer endless questions. Its fun to interact. See the smiles, laughter, wonder and merriment on the faces of young and old. I have very loyal supporters who have seen be grow in my 14 years, and I LOVE those relationships. It means I do something people like, and while that is important, its not what its all about. I create an art form. I have never considered (and am not) artistic. One thing I know, is that the Christmas Display I want to look at, resonates with most folks. I would lie (and do fib at times) about the work involved with the Display. In many, many, ways, this was my toughest year to get motivated. Quite frankly, until Dec 3rd, I was going through the motions. However once we started getting visitors, I flipped over, and got back into that Spirit. This was a tough year on me and family, and our neighbors. What defines character is persevering and how you manage challenges. Anyway, not to sound down or anything, as its the BEST time of the year for sure. I have had volunteers again! I learned some things this year on how to do better at that. They have given me the chance to visit on busier nights, and next Season will open up more nights for Community Service hours to help me out. Our busiest night was last night, and it will be hectic between now and Christmas Night. Please be patient if you come by, and if you have read this, just let me know. I love those occasions when someone pops off with something I write here. This being my Journal, it allows me to dump things out in a semi raw format. Thank you for following, and checking in....


12-20-18 - Christmas is just 5 days away, and our busiest week is proving to be that. Next year I am going to open up the volunteer days to include all the days leading up to Christmas to allow me some breathing room. While I can manage the street, parking etc..., it would be nicer and easier for me to have the help, so I can visit more with the guests. I tell some that in the Holiday period, Thanksgiving to New Year, I am one of the few that lose weight... I get a lot of exercise in. I think we are past our wet weather for now, and will have to watch the cold. Temps look to be dropping and if we get any moisture...... There is a chance of snow on Friday, which historically will be one of the busiest nights of the Season.. Something that always concerns me. Tracy, Yogi and I took our annual Christmas picture for our Yearly Christmas Letter. I now get to go work on getting my list of cards out in the mail. I sent the critical ones that have to go to Canada yesterday, so now off to do the rest. See its not all about the Display! Thanks for checking in...

12-17-17 - Its been a different Season so far with visiting. The nights I thought would be busy, have been steady, and not insane. I am not complaining grant you. I was able to secure VOLUNTEERS! Last night we had the most ever, and I think I learned something for next year on my approach to soliciting help. It was awesome to have the kids working traffic and allowing me to visit with our guests. Everyone had a great time. Other typical slow nights, have been very busy. It has been a different year all around that's for sure. At least the weather has been cooperating for the most part! The long awaited "Grinch" vignette made it into the Display on Friday, finally! Actually the pictures below are 2 of the new additions. The last big one is the outline lights on the roof that I can change color. The stacked presents happened to be the same color as the Present Gang, Sno, Mo & Bill. Christmas Eve is a week from tonight. I am off work till Jan 2nd, and I expect this coming week to be busy almost every night. If you do come by, I'll be the insane elf parking folks. I should think about expanding the volunteers since they are out of school to the entire week before Christmas. Again, something to consider for next Season. Time to go work on my FORD. Fix Or Repair Daily! That being lights in the display that need replacing. Blue LEDs are the bane of the Display. They fail far more than any other color. Ask me my opinion about that sometime of you see me...... Thanks for checking in.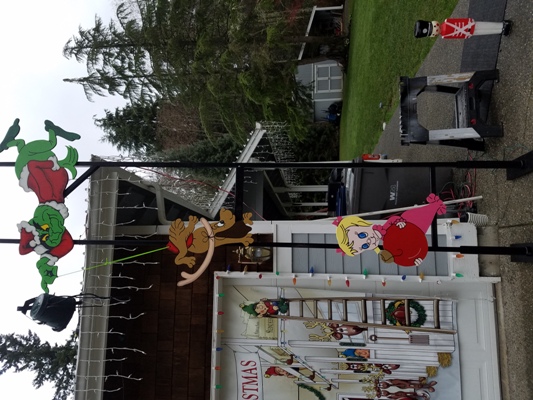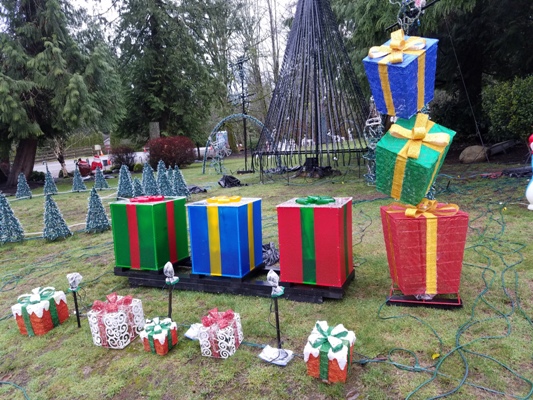 12-13-17 - Almost half way through the Season, and Christmas is just 12 days away! It's been topsy turvey to say the least. This year I had to travel out of town on business 2 weeks in a row, being gone 3 day on one trip, and 1.5 on this weeks. I had to get special elves to assist Tracy with the launch and shutdown. The first week, I missed a visit from our longtime friends the Allison's from Naples, FL. I was sorry to miss that visit. One of my longtime visitors Jason and his wife Diana Pittman managed 2 nights, Don Kohler one night and then this week, Pete Peters. The kick off is not so difficult, but doing it the first time can be a bit daunting. There is still things to get fixed and get out there, but I am taking things as they come, and getting to them slowly but surely. However, the display does look great even with the few glitches out there. After Friday this week, I am off till Jan 2nd, and will take a bit of time to decompress. The past 6 weeks have been some of the most hectic ever with work, life and the Display. It does not help with Momma Claus, Tracy being down with the flu. We downsized Woodinville Wonderland Inside a bit, as she has not been feeling well overall with some issues we are working through. The Tree in the Window is amazing though. As always that is the center piece of what we do, inside and out. I love that tree, and she makes it look amazing every year. I have some of my things to do for the Season, such as our Christmas Letter. Yogi needs a bath/trim so we can take our yearly picture. Yogi has been a great Fur Host, and is quickly melting visitors hearts. He still is trying to figure all this out, but loves to live "Frosty The Snowman" live in the yard. The line "running here and there all around the square" is fitting, as one of his loves is to play chase. He has soooooo many things to run through and around that I can't! All is good. I will post more as time allows. Thanks for checking in.


12-9-17 - Our first week of the Season is behind us, and I am behind in updates. We Lit Up! a day late on Dec 2nd with a rough Dress Rehearsal. There were some gremlins (still are) out in the yard. The major ones are slayed, but today after our first week, there are a few things that really need attention. Last night we hosted Judy Pancoast for the 3rd time. A great night, but man o man I was limping into her visit. Work sent me out on a 3 day trip last week. Thanks to the Pittman's, and Don Kohler for tending to the Display in my absence. On top of that we had company that Tracy was spending time with, so I sadly missed the Allison's from Naples, FL. The Band is still not fully complete. 3 of the 4 had problems and had to be left out for a week. By last night for the Judy Pancoast concert, 3 of the 4 band members were in the show. The new Display additions, (I added a total of 48 Really Big Lights in the Road Tree, Light Fan RGB Upgrade and the Roof Outline RGB) are now all working. The latter 2 were not the first couple of nights. That was just a communication issue I needed to work out. Our donation effort is off to a great start, and it looks like I have some work to do to coordinate VOLUNTEERS! Yea... We had one show up last night along with a long time display attendee Bryan Bell. This is a great story as to how Bryan found me. That is it for now. I will spend a bit more time in the next day or so. Ahhhh, the Season is finally here and in full swing....

11-24-17 - Happy Thanksgiving! Not a lot of time to post. Things are behind schedule in my mind and there is still a lot to do in a week to make our Dec 1st Light Up! Yesterday was a good day with help from my special Elf, Mr Kohler. The yard is almost set, the Band members did not fare well in the off season. I will get the yard dialed in today, and then work on them over the next few nights to fix 'em. We do our festivities later this afternoon, so I will get a chance to work this morning on the Display as usual for this day... TSO is Saturday and the only other planned time off. Have a wonderful day with your families, I give thanks today, and every day for all we are blessed with. One more BIG week ahead, I am bushed already....


11-18-17 - 2 weeks from yesterday will be December 1st and our planned Light Up! This is what we call our Opening Night. I had a special gift from my bro in law, he arranged a boom lift for me to get my Road Tree strung, and Peanuts Gang in place. Our Big Push! started yesterday afternoon. This is where I take 2 weeks off work, and it is 18 hours a day Display work to get it done. I take Thanksgiving afternoon off, and Saturday afternoon after Thanksgiving for the TSO concert. Yesterday I picked up some lead shot for weights from Non-Ferrous Metals. The owner lives in Kingsgate and is kind enough to bring this to his house from So-Do where the company is at. It will help with the Peanuts gang tomorrow, Sunday to weigh the guys down..... More to follow, we are off and running....


11-14-17 - Well, another wind/rain storm yesterday. Probably the "first" one of the Season (we plan for 3), since the precursor storm 2 weeks ago, was not as significant. We surprisingly did not loose power (it was out all around us), but there was no going outside unless needing to let Yogi do his business. Trees were reported down everywhere. So today saw hopefully the last big outside cleanup effort. 5 hours blowing and mowing up debris. The yard looks great, and is surprisingly dry. Normally this time of year it is already saturated, and cleanup occurs with a rake. The fact I can still get my commercial 36" mower all around, is amazing. Then I got a few hours of work in to pay the bills, and started on Woodinville Wonderland Inside! Momma Claus wants to get the Tree in the Window up. So tonight starts Inside work. Command central takes some of the Living Room furniture usually, except this year. With Yogi added to the family, and his Penthouse in my Home Office, and some furniture changes in the house, Command central gets a bit of an overhaul. A bit lighter than usual, with some added inside decorations. Yogi got his very first Christmas Tree, and he has a Peanuts Choir that are wirelessly connected for an animated "show". We have a few more days at our regular day job. After Friday, I am off till Dec 4th. My special elf, Don Kohler has been out of town for a month, and he is home this week, and I hope to snag him as his time allows! Below are the pics from Command Central. You see the computer that controls 99% of the Display, plus our KWWR radio station (seen playing below), and the screen that shows our Virtual Santa. Command Central is Yogi's domain, so his penthouse will become a holding spot as a catch all. In the second picture below you see our lil FM transmitter on top of the blue computer tower, next to the dome looking light. Yogi gets his own tree and Peanuts Choir.... As he is still a puppy, at 9+ months, he is still trying to figure all this stuff out. He growls cutely at blow molds, is curious about the outside elements and even uses the Icicle Forest Trees as his, a, relief station.... Keep checking back. More updates to follow. Oh yeah, we are still getting ready for Judy Pancoast on Dec 8th!........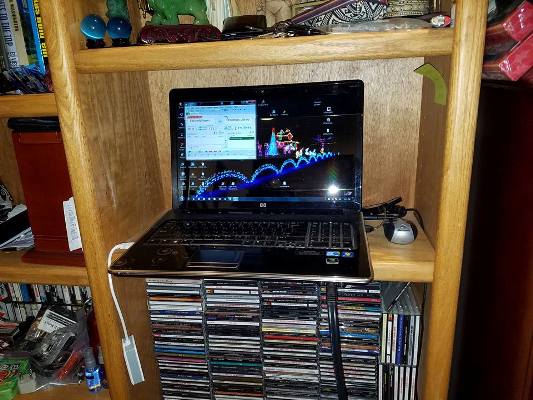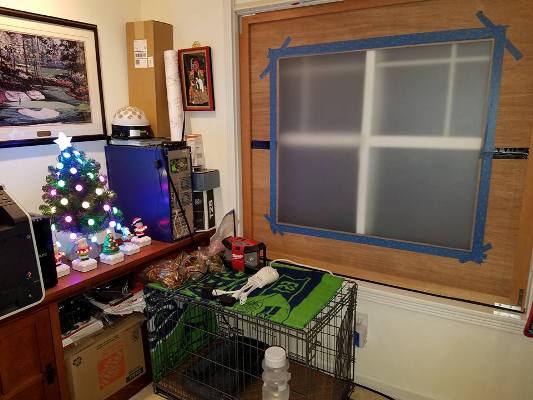 11-12-17 - In the yard, I have 4 large trees that get a lot of attention. I call them the anchor points of the Display. In order below, the Icicle Tree, Tree within a Tree, RGB Tree and Spiral Tree. Each Tree gets a compliment of 2 Leaping Light Arches. 2 get built in the yard, (Icicle/RGB) and 2 in the driveway, then hand carried into place (TwT/Spiral). Yesterday all the Tree's were put into the yard and we are now ready to start filling things in. Today its supposed to rain all day, so a good day to get the vignettes filled in, starting with the Street Entrance. Most of the leaves are done, there is still some cedar boughs to come down. The Yard Clean Up this year, while time consuming, went pretty well. Normally by this time of year, the yard is pretty wet. As of yesterday, it was in surprisingly great shape. I suspect that will change starting this week, with a forecast of rain. One of my special Elves, my buddy Don Kohler, has been enjoying the sun in Yuma, AZ. He come back to town this coming week and certainly the weekend after Thanksgiving will give me a hand with a boom to finish out the Road Tree and the Peanuts gang on the roof. Its beginning to look a lot like Christmas for sure! Thanks for checking in.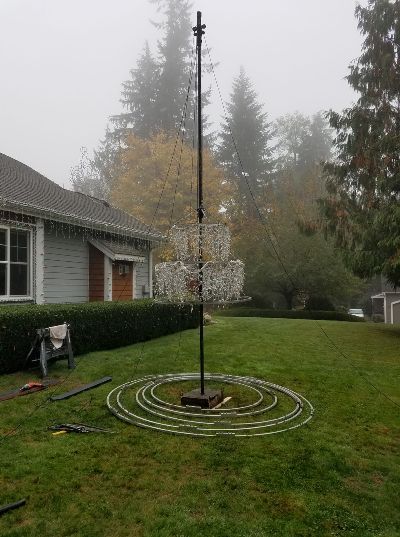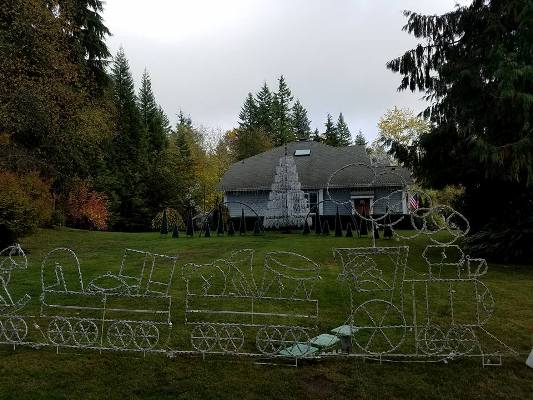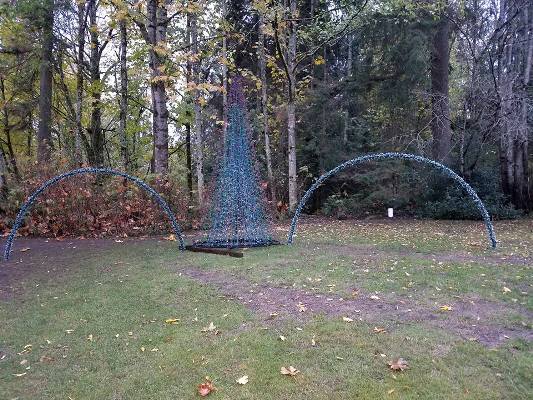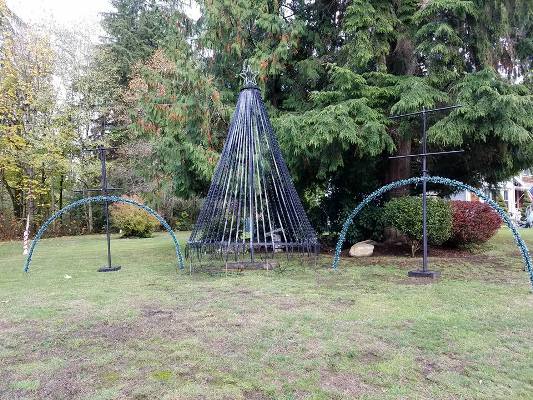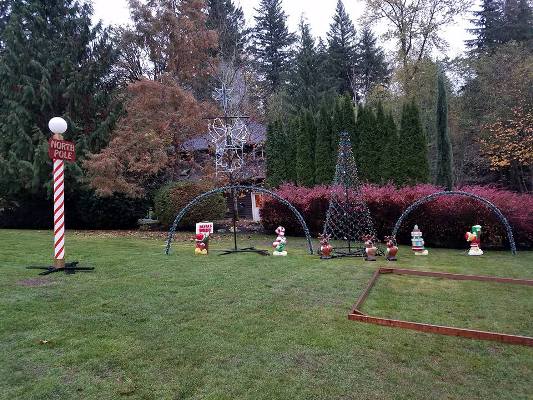 11-6-17 - It seems like I can never get caught up. Again, its been some time since I had a Blog Update. Its that magic time of year, when I attempt to slow time down. Set Up! had a soft start, and then as planned, on Oct 1st, lights started going on the house. The roof has about 2/3rds of the items up there. Moving to the ground, the driveway, and road now have arches and canes lining the property. There has been a lot of fixin' going on. Leaping Light Arches took a beating in the offseason. Most of the hedge bushes have lights, the Icicle and RGB Trees are up with accompanying Leaping Light Arches. My buddy Pete Peters came by to give me a hand with the RGB Tree, to tighten in up. Mom Nature has given us a double edged sword. With the extremely dry summer, she gave us a week of rain in Sept, which gave everything new life. That meant the leaves are hanging on like crazy. I have had several rounds of cleanup but there is still more hanging on out there and we are in Nov. So the SNOW we got on Friday and Sunday had problems in the area with trees falling due to the heavy nature of snow/water/leaves. We had a 2 hour power outage just yesterday with trees falling into the power lines. While the yard is looking good, I am behind where I should be this time of year. Facebook has been getting a few more pictures and updates, so I would have you go friend that page. I will try to get more updates and pictures posted here, but I am coming into my huge crunch time. Check back and see our progress.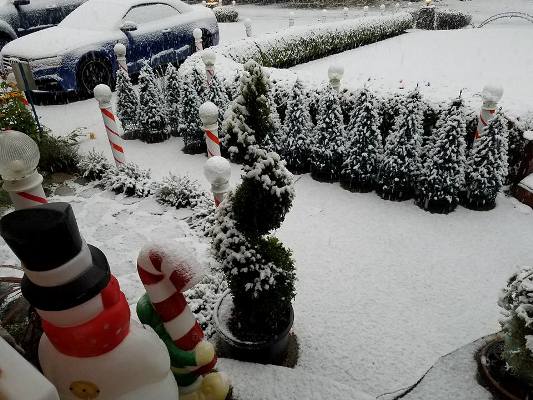 9-25-17 - Man life is busy. I realized this morning that it has been another 2 months since an update, but hopefully they will occur more often. Let's just say that a lot of the "planned" items for the display will not happen this year. Work, and life have been crazy busy, and at least on the life side, I can somewhat control it, but there is a lot going on, and it is really hectic. Our Chelan home is moving along. Our building permit is in hand, and there is still some lot prep work to do, but we hope to have a foundation in this year before the cold weather sets in. This project may prompt me to greatly downsize what Display we will have in 2018. We will have to see. I have been boogying over there a fair amount for one item or another. We also are involved in obtaining a membership at Lake Connor Park (LCP). LCP is a camping club that one of my special elves, Don Kohler turned me onto. Don for a couple years now has been talking about it. Well we finally took him up on his offer to take our lil trailer up there for a weekend. We liked what that place is and some of the benefits it offers. So we started looking at lots that were available and settled on one. We are now involved with the process of transferring it in our name. This will allow us to keep our trailer up there year round, and use the facilities as we need to. It is only about 40 minutes from the house, so it gives us a quick camping get away any time we choose. Over Labor Day, Tracy and I went to Florida, ahead of Hurricane Irma. We visited my buddy and fellow decorator, Darren Huffty and his family in Jacksonville. Then we headed south to Palm Coast for another mini family reunion with my sister Marlene's family. A fabulous time for sure. We got out of Florida about 4 days ahead of Irma. Work did start on the display by fixing light strings on known items. There will be a lot of fixing light strings to come for sure, but there was one Leaping Light Arch, and a large number of Trees in the Magical Forest that had been left out since last Season to fix. The Magical Forest Trees are 4 color super strings. Blue LEDs are the bane of a Display. They fail more than any other color. Then I started to get an update going that started in 2015 when I fell and broke my wrist. That year I wanted to convert the red LED roof outline to pixels, mainly just to add color. When my special Elves plugged that controller in, bad things happened. No trouble shooting was going to happen. So instead, this year, I decided to swap out E682 controllers, and go with Falcon controllers. Below is the new roof outline controller all ready for testing (this week). One more of these will be built, and hopefully control the updated Light Fan that needs to get converted to Pixels... We will see... So yesterday I started fixing Window Wrap frames. Several had started to fall apart, and over the past few years, I had been slowing fixing them. I had several more this year that had to get done. They would not have survived hanging. So after painting and getting them all spiffy, I hung 6 of the 8 Window Wraps. So we sort of had a soft start to Set Up! which traditionally starts on the roof, but with the Icicles. To get ready for official Set Up! to begin next Sunday, I pressure washed the gutters, and checked for wasps nets in the eves. So we are moving, albeit in several directions, and I hope I don't get too thin on any one item. More updates to follow.....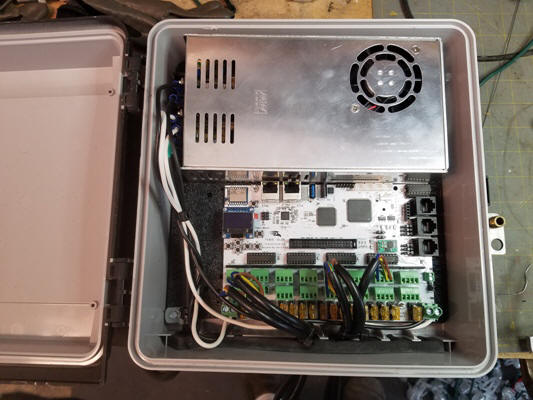 7-22-17 - Wooh! 5 months since my last update! A lot has gone under the bridge since Valentines Day. I had to finalize all the Tear Down! by the first part of March to get the 2nd of my carpal tunnel surgeries... This on the left wrist I shattered in 2014. That went well, and the wrist is about as strong as it will get. We managed a quick get away to Lake Chelan, the place of our future home, and spend the weekend at Winterfest. It is Chelan's Winter celebration, with wine tasting, great food, music etc... It was COLD! We did a bit of snowshoeing one day and just generally tried to relax. Work has been more demanding than ever it seems, plus there have been a lot of Honey Do's at the house. Our Dolphin Pond landscaping was complete, and the area by the front porch was cleaned up. The picture below give you an idea of the new look. We will have to see how we decorate these areas for Christmas! There was mulched badly needed in the planter beds around the yard. Work has gotten crazy. I know I keep saying things can't get more hectic in life, but each year, in the off-season things get wild. Tracy and I ended up getting a new 4 legged host. It has been a bit over 2 years since our Golden Girls walked across the Rainbow Bridge, and this little guy, we named Yogi, has captured our hearts. He is a Shorkie, and our first smaller dog. He is all boy, and all puppy right now. As of this entry, he is about 6 months old. We got him on May 5th. I then proceeded to head off to the Biz trip from hell to Asia/Pac in June. Manila, Penang, Bangalore, then back to Manila. 2 grueling weeks. I was home for 9 days before Tracy and I headed out on a 20yr Anniversary cruise with 2 other couples. We left from Venice, Italy, and did an Adriatic Sea cruise. Going as far as Athens, Greece. It was 8 days on the boat, and we spent 2 days in Florence, and 3 days in Venice before getting on the boat. This was our first cruise, and our first time in Europe. It was Tracy's first long haul trip and she did very well, given how much we moved about before finally settling on the boat. This was another 15 days gone, and it was over my Birthday as well. We are in the process of finalizing the details for our Lake Chelan home. A lot of prep has gone on the property from excavation around the home site, utility work for water and power, and then the house plans and engineering. We hope to submit for a building permit by next week, and the plan would be to have a foundation in by the time winter sets in this year. Eventually, this will be our residence, and what I hope will be the Chelan Christmas Chalet. So with ALL that going on, not a whole lot has been display related. We managed to get the pixels and clips to do the overhaul of the Light Fan, what some call the Peacock Tail. I wanted to manage a Thomas the Train engine overhaul and we will see how far that gets. So not a lot of Display work or planning. We are working with Judy Pancoast to have a private concert here on December 8th. So the calendar is clicking by, and I hope to not get myself bound up against time as usual. We will see. So a bit of a long update, but at least it brings you up to speed with what we have been doing the past 5 months.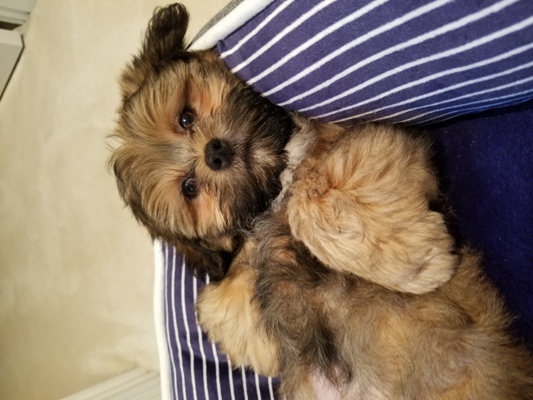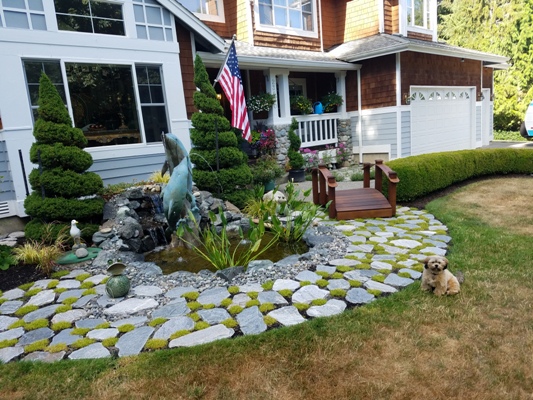 2-14-17- Happy Valentines Day! It's been a few weeks since the last update, and posted any pictures. Tear Down is still a WiP. I spent most of this past weekend getting the roof stuff down, and cleaning up there. Yard stuff still coming in at a snails pace, but I never really push myself to get it down in a hurry. I do however, have a lot of pressing Honey-Do's lining up, so it makes sense to get as much done this week as possible. Since the last update, Superbowl Sunday, as Kickoff commenced, we had snow very finely starting to fall. Around 1am, I got up to get a drink of water and take a leak. My timing was impeccable. The lights flickered 2 times and the third time was the charm, out they went. Looking outside there was about 5-6" of snow. I went back to bed figuring I would not hook up the generator for a few hours. 5am rolled around, and I knew we were going to be out of power for a while, I got up to get things situated. I had a scare when the generator would not fire up. As I started to check things, I noticed that the oil was low. Once filled, it fired right up! Later that Monday afternoon/eve, another several inches fell. I would estimate about 10" total in just over 24 hours. I got outside with the lawn and leaf blower to get the snow off some of the Display items that were still up in the yard. The Icicle Tree below is after I blew it off the first time, and the snow came down again.... THAT would have been the picture to get....It hung around for several days being how cold it was, then by later in the week, it warmed up and we saw over 3.5" of rain fall in 24 hours! What extreme's. Cycle forward to this past Saturday when Mom Nature gave us our official break from Winter. Historically there is a 3-5 day stretch that she gives us each Winter to give us a reprieve. So this past weekend was pretty busy getting more stuff down. Thanks to Don McGillivray who "just popped by" to lend a hand on Saturday! Yesterday continued our nice stretch, so I took 2 hours to blow out some of the beds and then mow up the debris. They were a mess due to the snow, wind and rain. Then, I got lights off the porch and the last of the bushes. With that done, another nice day today, so I will take off a bit early from work to tackle the Procrastination Tree, er, ah the Road Tree. Sometimes procrastination helps. Working on that tree, show below, to put the Red/White mini lights and the new Really Big Lights has to mostly be done from up inside that tree. When cold and damp, that tree, and branches are like snot. Slippery is an understatement. Tracy always fusses about me on the roof. Well I did have one mishap up there I grant you, however that tree is MY biggest concern more than anything else. In the yard, all 4 Anchor Tree's, the RGB, Tree within a Tree, Spiral and Icicle are still up in all their majesty. Thomas the Train's track is still up, and a couple controllers, along with the Bow/Bell and Light Fan are the major elements in the yard. Not to mention the Candy Cane Forest, R/W tree wraps. THEN, we have the miles of extension cords to pull up. Still a lot of work, but I plan on getting something done every night this week. All the main items are pictured below. Thursday is Tracy's B-Day and we may do something this weekend to celebrate. Maybe golf!? We will see. Oh and yeah, we did get a day of snowshoeing in also. Lets see, I finalized the payments to our Charities last Friday. So the effort to close out Woodinville Wonderlands 2016 season getting there. Then we start our planning for our local CLAP Christmas gathering in late April! Thanks for checking in.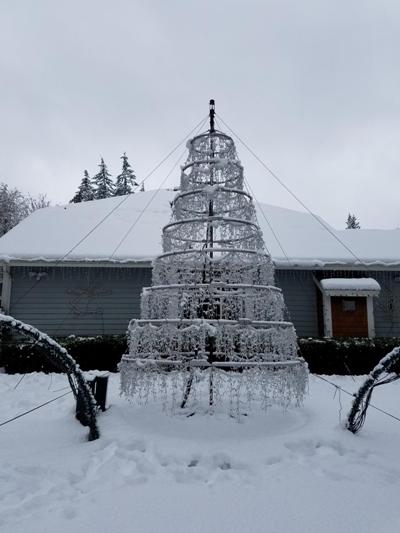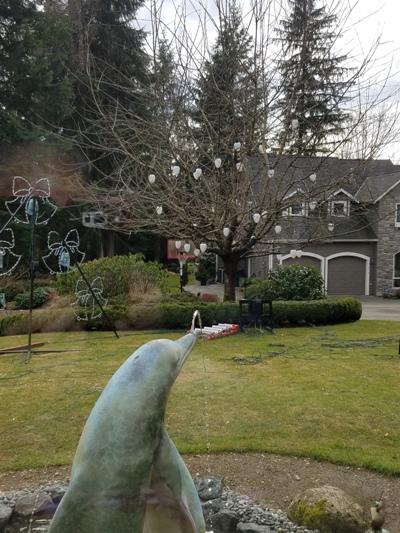 Here is the Icicle Tree Foreground is the RGB Tree, in the back is Tree within Tree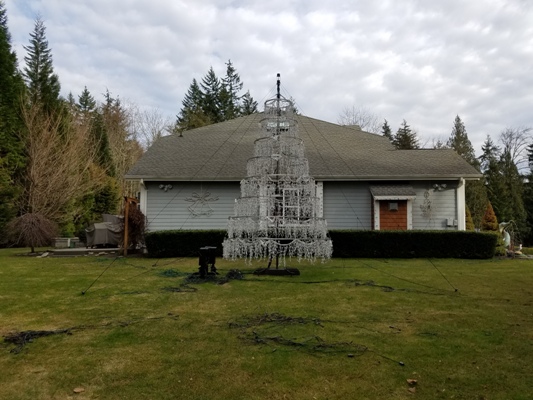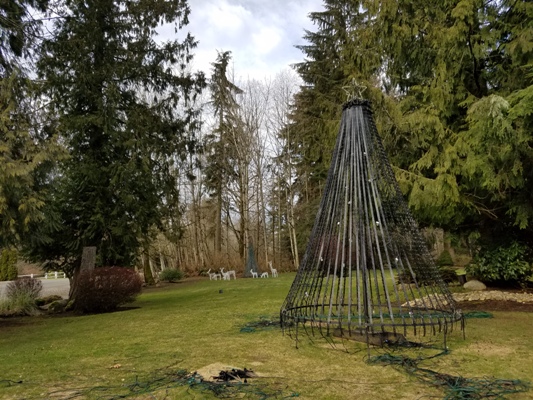 The Bow and Bells Thomas the Train and the Sprial Tree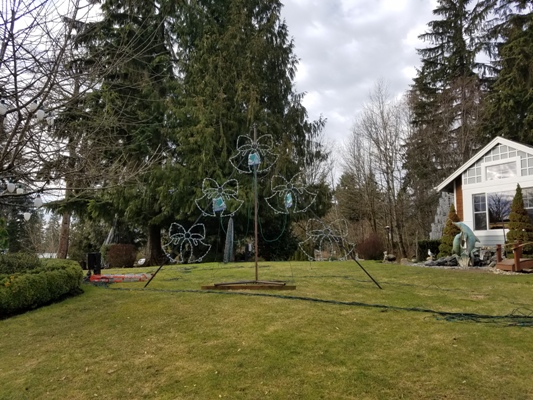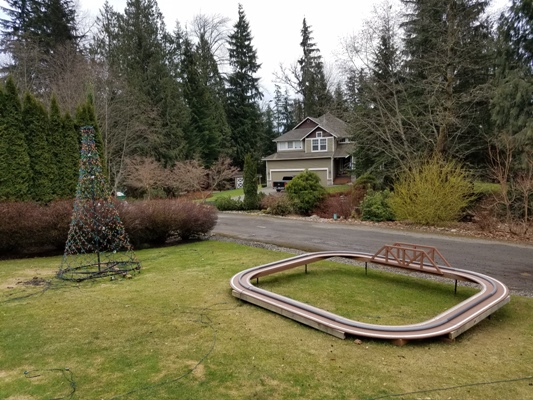 1-24-17 - Almost a month since Christmas. I shut things down almost for a week, and man did it get COLD around here for quite some time! I finally got out the Friday after the New Year, just to get pictures and a few videos. I had not thrown the master power, and hunkered down to stay warm. So, as usual, what is in the can will get published as best I can make it. Hopefully before the 4th of July! LOL. I was beat after the Season. I laid low, did a few things around the house, but after I threw the master power switch to start Tear Down! not a lot happened fast. I got my critical items out of the yard, some of the electronics (a lot is still out there!), and a few things here and there. This past weekend, Saturday morning and most of the day Sunday I got a fair amount done. I don't knock myself out to pull it all down. Folks say to solicit help. That can be done, but this is the first Season in 3 that I am doing it mostly myself, which is a GOOD thing. Tracy and I took last weekend and goofed off over in Lake Chelan for their Winterfest celebration. So it was fun (in the COLD) with snowshoeing, wine tasting, soup tasting, relaxing etc... More time away from Tear Down! Some planning is in the works for 2017, some lights need to be ordered, and then we once again juggle time between life, work, honey-do's, our Chelan project etc.... I still have yet to divvy the funds between SOWA and the Northshore Wranglers. I am waiting till Cadence, my employer opens up the Matching Funds so I can get an extra $500 to the total! We had a great year for sure. I meant this to be a quick update. I will apologize if you are reading this and accidentally touched the count down clock I had on the landing page. Seems something went haywire with the company who provided that code and it was hijacked to a not so family friendly site. It has been rectified for now.


1-7-17- Well we had to go back to work last Monday after 2 weeks off work. It was busy right out of the chute. The Master Switch was not thrown on the Display because I wanted to get some pictures and a few videos, but MAN has it been cold. The Dolphin Pond has been having problems with ice formation. There is STILL snow up here. Cords are frozen to the lawn. Amid all the cold Tear Down had to commence today, so last night, I fired her up! I had a photo sequence I shot first, then had a 3 song loop to get video. I was outside till after 10pm, and flipped the Master Switch, disconnected the outside power, and broke down Santa in the Window in my home office. Mrs Claus worked on Tearing Down the Tree in the Window, and now it needs to be disassembled and stored away. Our Retro camping trailer should make it back into the driveway this morning. Most of the major hardware or key items will come in today. We will see how much gets done before we have to head off to the Man Cave to cheer on the Hawks! I hope to get the pictures and videos posted soon. I will post again on how our progress is coming.


1-2-17 - Happy New Year all! Wow! what a Season. The start of a New Year! I took the 1st as a day of relaxing, reflecting and chilling. Alas, it sort of sadly came to an end. Last night was Closing Night. We had quite a lot of folks stop in to catch one last look at our Display. Some new guests, and some, who were just making it out for the first time of the Season. We appreciate it all, no matter. Closing Night is always a bit bitter sweet. Mrs Claus started breaking Woodinville Wonderland Inside down, and sadly it is almost all put away except for the Trees. Outside, all the cones, signs, and the lights/Santa Moon, on our Santa Can was brought in. The rest of the Outside will not start coming down till this coming weekend. I still have some photos and video to possibly capture before the big Master Switch is thrown off for the year. While some say its only a month, and a few days, there is a lot of energy that has to carry us through the Season. Now things need to be reviewed for attention or fixing, so the effort goes on till hopefully the early part of February, because I go back to work today after 2 weeks off. I took some notes through the Season as to what was successful and what needs changing. This years layout was almost a replication of 2015. Most of the changes were logistics this year. However the Really Big Lights in the Road Tree were a very noted success by all who came to see us. I am so glad I added them, and will add more in 2017. I may think about another yard juggle, and updating some items to hopefully make them better in the long run. Our donation effort went SPECTACULAR! We surpassed 2015's Season total, in shear cash donations. My company will match $500 to the cause. That gave us a whopping $8252 for SOWA and the Northshore Wranglers. Thank YOU! to all who helped us in this cause. Your generosity is amazing. So that's it for now. Thank you all for a magical Season. Check in and see what antics I have been up to during the year.

12-26-16 - What a 10 day stretch! The big 24 hours is now a memory. Christmas Eve and Christmas Day. Everyone is playing with their new presents, all are happy and joyful. We hosted Tracy's brother, sister and nephew along with her son Chris and girlfriend Erika for Christmas Brunch. Then we had about 35 of the family at Woodinville Wonderland Inside for our annual gathering. About 35 in our abode. Wall to wall fun and laughter. Don Kohler once again gave a huge hand Christmas eve (unexpectedly) along with Chris Kent. It was incredible that they would come help me out on my busiest night of the Season. Last night a friend Rick LaMarche tended to the street so I could be inside with our family. I have been saying for years now that "Angels are Among Us". Our tribute song is reality in my life. I am thankful for the help and friendship I have with a lot of special folks. This week should be quieter, as least history tells me that. Mom Nature threw us a few curve balls with weather right at our prime visitation days, but that did not stop a lot of folks from visiting. Our donation effort is doing awesome, and we are soooo close to pushing over last years mark. If we can get to $7500, my company should put in another $500. That would be amazing. I hope to kick back a bit, get some honey do's done around the house for Tracy. My review at work needs to be submitted as well as a few appointments. Now to relax some........


12-24-16 - The biggest night, the most anticipated night, the most wondrous night of the year is upon us! Christmas Eve. I love this time of year, obviously for many reasons. This was a tough year in soooo many ways, for me, for our country, for the world. This night, and tomorrow, it is great just to pause, reflect, and cherish all that we really do have. These 48 hours are magical. Oh what it could be like to replicate that for every other day of the year. We, I am blessed. I am thankful for all that is around me. OK, enough reflection, although, thanks for at least reading my heartfelt sentiment. The visitation has been really different this year. Last night, for Friday before Christmas should have been off the charts, but the snow and weather I am sure kept most away. Which may just build pressure for tonight and tomorrow. We will see. There is a little over a week to go for the Display. Hard to realize 3 weeks are already behind us. Our donation effort for SOWA and the Wranglers is doing very well. We are about $1500 short of surpassing last year, with 2 big nights to go. I really want to break that $7500 mark set last year. I have some checking to do outside before tonight. I get to prepare Christmas Eve Dinner for our family, and get Christmas Morning Breakfast ready to go. Then it's Go Hawks! time. It will be nice to sit and relax before the Show hits tonight.


12-20-16 - I was on the street last night as usual, handing out candy canes. Upon offering one to one little visitor, I got the quote of the decade..... "A candy cane can solve all of life's problems"......... For once, I was stumped without a snappy come back, because, you know, that is true. I just had to shake my head and say, "you know, I gotta agree with that..." I get some amazing accolades this time of year for what we do. I cherish each one, because it means that what I do and like, resonates with everyone. That is my special juice. Last night I got 2 that I had not heard before. One guest stated it was "epic" and another said it was "profound". 2 in one night! One other night this week, a couple was chatting to me who do lighting design professionally. They were wanting info and data, and I was sharing a lot of the technical details of the logistics behind it all. They actually went out of their way to note the subtle details in the yard that 95% of the visitors would not notice except on a subliminal level. Another shot of juice for me. They got it. Christmas is just 5 days away. I have some fixit stuff to do in the Display. Check back again.


12-18-16 - A week from today, all the anxiety will be over. Everyone will be playing with toys, eating, drinking, singing. Ah the thoughts. But! We have a week between. Plenty of time to see the Display. Things are doing OK. IceZee is causing me fits, but otherwise things are in great shape (knock on wood). Last night on our busiest night to date, we had a first. Something I have always been concerned with. EMT, Fire and Sheriff needed to get through our area. My volunteers were flawless in locking down the street to get them through. All was fine and on the way out the guys said that they appreciated us getting them through asap. Then it was, nice Display! Too funny. I need to get a few things worked on, so maybe more of an update later or tomorrow.


12-11-16 - Our first 10 days are behind us, and Christmas is 2 weeks away. Things have been a bit slow to start the visitation, but the weather has not cooperated well. We got about 3 inches of snow that is still lingering, and they say a Polar Vortex is on its way this coming week. I have seen computer models where we are below 0 Zero. That is not going to bode well for things around here. However last night, we had our first really busy night, and thankfully I had on volunteer to assist with parking. So the Display is doing well, typical fixit punch list items as part of maintenance. I added one new song, Christmastime for my neighbors the Casper's. It has been a challenging year for them. Marti asked me 2 years ago to add it. I added the Bow and Bell feature just for that song. Well, given what they have been through this year, I moved mountains to get it into the show, and have a special showing for them first before we rolled it out. We had a great time watching it come to life. In one sense I felt like the Little Drummer Boy. I had no gifts that were appropriate, but I could play...... and that song did play, and it was great. One more song will be IceZee's long anticipated debut. His song is ready, I need a couple hours with him in the garage to ensure all his parts and joints are functioning properly. I hope to focus on that today before watching the Hawks game this afternoon. It is now our busy social season too as we get a lot of our family and friends stopping in to visit, and have one of our famous Hot Buttered Rums. Its great to have the hustle and bustle of the Season upon us. I will make another announcement when his debut will run. That's it for now. Check back in, and Merry Christmas!

12-4-16 - Our first 3 nights are behind us already! We were very busy last night, and saw some familiar faces. I got a chance to talk to a lot of the folks since the traffic was not too bad. The weather cooperated for the most part, but they say the nasty "S" word in in the forecast for this coming week. A light dusting does make our Wonderland more magical. Anything more than an inch becomes work. Mainly for the hedges and bushes. Snow has to be blown off them to see the lights. LEDs don't generate heat.... I have 2 songs to finalize to get into the Show. IceZee will finally "come to life one day" and have his LONG awaited debut this coming week. I have several hours on each song before I can put them into the Show mix. There is a good sized punch list still to work on, but nothing earth shattering. The RGB Tree had an early issue that we got worked out, however, some spare equipment was put in and that leaves us vulnerable without a 100% spare. More updates to follow. Thank you for checking in, and thanks to those who seek me out to tell me, that someone actually READs these rants........ :)


12-2-16 - "Ridden hard and put away wet". That's how I feel. Not bad though and in some cases literally wet. We went into Opening Night not as prepared as we wanted to, but the show went off. There was no time for a connection verification test. So in one way, Opening Night was our Dress Rehearsal! In 2012 when I added Angels Among Us as a Memorial for my Mom, it had special meaning to me around that difficult time in my life. Without getting too sappy, there are Angels in our lives. I have many, and realize that. One in particular the past 2 years has been a true God Send, or maybe its my Mom looking after me still, but Don Kohler has been beyond helpful for me, and Woodinville Wonderland. To some extent, those that do these types of displays are selfish and yet we are giving, its hard to understand. But to have someone like Don give so much of himself for the "hell of it" is incredible. He has volunteered his whole life and just extending that trait to me, for which, I am extremely thankful. The other half of that, Roxy Kohler, Don's lovely wife allowed him to come play with me as much as he did. They both are awesome. There are others who helped this year in their own way, Kevin Thomas, Pete Peters, and others. This time of year I get to enjoy the Season through our Display and visitors. There is a punch list of things to knock out today after taking the Display on the Opening Night spin..... Still more work today, and through the Season, but THE SEASON IS HERE! YES! Merry Christmas!


11-25-16 - Today has a lot within it. It's the day after Thanksgiving, Black Friday, Apple Cup (Go Dawgs!). It also marks one month to Christmas, and one week till Light Up! A great day yesterday with family. I did spend the morning on Display stuff, and got some computer work done. I will update the webpage, do a bit more programming and then I am outside for a big "punch list" day. Man o man has it rained a lot, but the silver lining is that it looks mild for the next week. Things are still on track for Dec 1st Light Up! so check in, we will update you as time allows. Did I say Go DAWGS!


11-23-16 - My update for Set Up! and a general update. Thanksgiving is tomorrow, I hope you all have a wonderful time with family and loved ones. It kicks off the greatest Season and time of year. Today marks a 2 year anniversary and odyssey that is a constant reminder that working on a roof and around a ladder requires all your attention and focus. Enough said. We are 5 days into Set Up! and progressing nicely. A few glitches here and there but outside of some iffy weather, all is going good. The first nice dry day on Monday allowed me with the assistance of Don Kohler to knock out the majority of the roof! There is still about 4 hours needed to lock it down, but the hard part is complete. You can see me working on it below. Lee Biggs stopped in that day and lent time getting things knocked out. As Tracy said (me too, I agree), I am getting spoiled with all the help. I thank God for all of it too. I have some computer work to do, and am juggling time. Since last Friday, it has been no less than 12 hour days...... Check in, I will try to make more updates.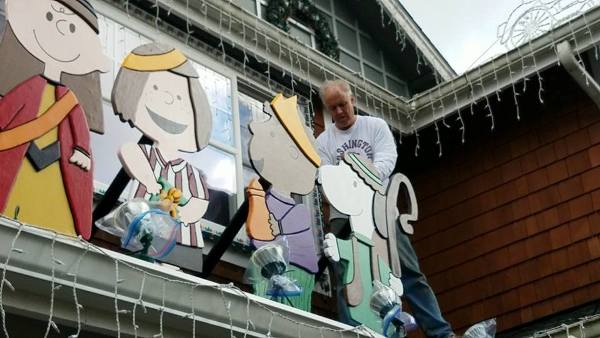 11-13-16 - I better get a quick update in. We lost 9 days in my prime Set Up! time for a New England wedding and business travel. I jumped back into it on Friday, and had a LONG 14.5 hour day yesterday. The same is probably on the docket today. Friday my Elf buddy helper, Don Kohler stopped in, and among other things, we pulled ALL the stuff out from under the house. Now stuff is staged all over. The picture below is his idea of keeping an eye on me, as he pointed several blow molds to look into my home office at me. These will be there for a week or so. We had a surprise little wind storm yesterday that I was not expecting, and the main thing it did was to knock almost all the remaining leaves and cedar droppings down. Don comes back and another buddy today, Kevin "Wirekat" Thomas to provide some assist. I will clean up while they manage a few things. The last mow will be juggled, as I have to get some of that done today to clean up, but more important, the 4 main BIG trees in the display need to be put into the yard, as they are my anchor points. The Icicle Tree was completed yesterday, and the frame of the RGB Tree put up. I had one minor incident with the Icicle Tree light strings. A mouse got onto my storage shelf and THANKFULLY only ripped up one Super String of Icicles. That tree has R-G-B-W LED super strings, whereby I bundle the lights together. The mouse managed to rip up 3 of the colors on just that one bundle and it had to be redone. It could have been worse. We are behind schedule, but hopefully after today, I will be caught up a bit. This coming Friday is my last day at work until after Light Up! that starts my Sprint-Marathon. Its all out, hands on deck to get everything fixed, put out, connected and ready for Light Up! which is still scheduled for Dec 1st. With help from Don, I should be alright. So I am off to blow leaves and mow waiting for my help to show up. Go Hawks!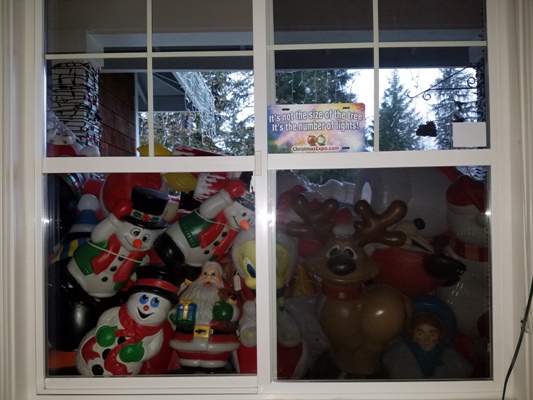 10-17-16 - Well, Stormaggeden did not happen, thankfully! Many on social media are poking at the weather forecasters. I for one understand how difficult it is to predict the weather in the NW. They did their job to keep the public informed about the potential devastation that could happen. The fact that Mom Nature drove the bus further west than anticipated significantly reduced the impact to the region. The difference was literally about 20-40 miles between just a seasonal wind storm, and utter devastation. In the 4 days preceding, we had more rain fall than in the past several months. We did get wind in those 4 days, and the yard needed its first clean up during the Set Up! season. I spent 8.5 hours outside blowing, raking, mowing, leaves, cedar droppings, branches, and lawn. The yard was pretty saturated as you would expect. However, Mom Nature cut me some slack and did not have any rain yesterday, UNTIL I was done, and I was literally DONE. I needed to eat, take a shower and sat in the hot tub. I was beat. So Set Up! can proceed until the next big event.


10-15-16 - Sometimes things just have a way of falling in place for who knows why. We are a bit behind in getting things on the house, which as of the last 2 days and today/this evening, is probably a good thing. As I outlined in my entry below, the big blows to plan for. Well, the Pacific NW is tooling up for a big Hoolie today. We have had a TON of rain in the past 2 days and some wind. The new Dolphin pond has no overflow on it. It sits close to part of our septic system (sand filter) so with the 5" of rain we got since Wednesday, I bucketed out about 130 gallons of water so far, 4 or so gallons at at time. Some leaves and debris around from yesterdays blow, but no work to clean up till tomorrow. It may be a full day tomorrow to get all the leaves, cedar droppings and branches out of the yard. All the icicle lights are on the house. 6 of 8 window wraps are in place. The other 2 are in the front windows by the Dolphin Pond and I will wait till I get the ladder out for the C9 strings that outline that part of the house. With today's storm, it is good that more is not already in place. Thomas the Train's new tracks have been cut, mostly sanded and a new keyway to join them have been cut, glued and screwed. Thanks to Don Kohler for his ideas and input. He is also working on the new levelers to hopefully make setting it up easier. Thomas will get an overhaul next year with hopefully a new "drive train", arh, arh. The tracks need priming, painting and a new guide rail. All to be done in the next few weeks. It wont happen today or tomorrow, with the pending storm, plus I have work to do for work, getting ready for a customer engagement on Tues-Thurs of next week. With the weather the past few days, I had to get the garage cleaned up to get Tracy's new car back in there to to keep it out of the weather. She was happy for that. 10am right now. In 12 hours we will see how things look. Keeping our fingers crossed, as it does appear that the weather models are saying the storm may pass more west, diminishing the big winds slightly.


10-7-16 - Fall is now fully with us. Its a great time of year, the crispness in the morning, the nip of dampness around your nose and ears, its a great time of year, unless you have a Christmas Display. While the lawn starts to slow down, we still have to mow regularly, mostly to suck up leaves and cedar droppings! The cedar droppings are the most contentious to deal with, as they get mowed, and then raked to get up off the lawn, only after they are blown out of the planter beds. Experience tells me there are at least 3 big storms in front of me. 1 in October, 1 in November, and 1 in December. Mom Nature with the first 2, assists us with dropping all the stuff out of the trees. She torments me with the 3rd, as we have to plan for that one big "Blow" during the Display Season. These are always one of my biggest concerns with stuff outside. Set Up! commenced on Oct 2nd with the annual icicles coming out, the Gable Wreath and 2 upper tiers of icicles were put out. So a soft start, because usually that first day gets us all the icicles on the house. This weekend we will start to pull out the tubs and bins, checking more items, the house, roof, bushes and the continuous fixing of elements are the focus now till we get to Nov 19th. That day marks our 2 week HUGE push to get the display ready for Dec 1st. Most say how come you don't Light Up! Thanksgiving weekend. My standard answer is, "its all I got in me to get 'er done for Dec 1st". The logistics behind Set Up! are more than one can comprehend. Thankfully over the last few years, I have been blessed with more help with a few special Elves. Weekends are consumed with Display "something's", as is just about every night of the week, from here till Jan 1st. Thanks for checking in. Check back or drive by to see our progress.


9-26-16 - A productive week so far. A picture is worth a thousand words.... Below is a lot between the 2 pics. First the garage shot. Mrs. Claus' new sleigh ain't in the barn so to speak. We got Peanuts Nativity and Mrs. Snowman in its spot. They are getting tended to. Plywood repair, and paint touch up, especially the edges that can lead to more damage. Mrs. Snowman needs a solid fixit for her hat unfortunately. All my wood characters have been enhanced intarsia style, which means they have depth. Wood on top of wood, so they are not just 2D flat. On the right side of the garage is my DMX flood washes. They have been tested and a few needed swapping out with spares for repair. I have what I need working for the Display this year, but only one spare. These may need to start getting swapped out with other floods as they are getting more and more difficult to get repaired. Chauvet no longer makes spare parts/boards. Also on the right side, you see the plywood that will go toward new tracks for Thomas the Train. On the left, you see 4 Mega Forest Trees. These are the Midi size of 5'. Of which, one of the frames is partially stripped of its lights. These trees are populated with R-G-B-W LED super strings. I take a string of each color, bundle then together into one super string then put them on the frame. Each of these type frames holds 2000 lights, 500 of each color. The 3 that are off the frame all needed LED replaced! Plus the frame itself needs a bit of a weld job. A couple joints popped off the lower brace circle. The other 3 frames you see, all have strings to be fixed. On the left side of the garage, you see the candles. The flame bulbs needed replacing on 2 of the candles, and, on the gold a string of LEDs was replaced. We are working toward this coming weekend, when Set Up! commences. Typically the first weekend involves getting the icicles checked and strung, and a few other roof items will come out of hiding and make it out. The other picture is a long standing project finally completed. The dolphins have been in the front yard for many, many years. Decorated at Christmas with hats and usually in the middle of that is the end of the "river" that runs through the display. We now have a real water feature to somehow decorate up for the Display. It should also provide a nice foreground to the Living Room Tree, known as "The Tree in the Window". This project was supposed to be done my me starting 2 years ago, but the wrist and abdomen injuries, presented it from being worked on. The final landscaping will have to wait till after the Season, and when Tear Down! is complete. It's kind of weird, its is almost October and I have done NO computer work. There are no major additions, there may only be slight tweaks to all the existing vignettes, however there will be 3 new songs that I am getting some help to get the majority of the programming done before I have to finalize them for the Show. Whew a lot here! I push out a community plea for volunteers this coming weekend. Thanks for checking in, we should have more updates more frequently.......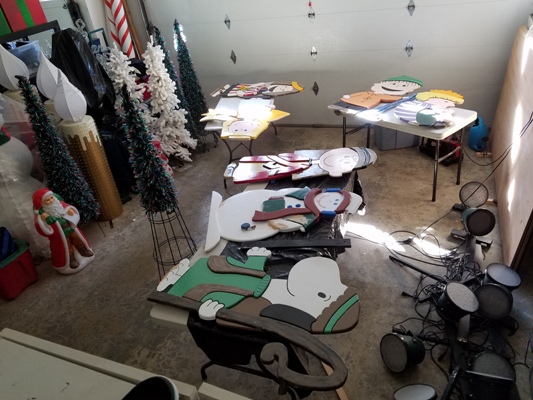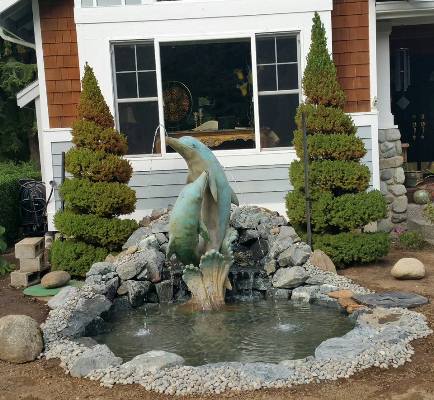 9-21-16 - Been cranking away in the garage. I built 2 ASAP's and Portable Hole Lite. Below is a picture of the 2 competed assemblies. For the PHL, I assisted Walter Monkhouse and documented the difference between the Lite version and the full size. It is posted as of today. The link is active. I also had to completely redo the Snoopy's Dog House, my 2 Woodstocks, and Shroeder's piano of the Peanuts Nativity. I now am starting to fix some of my characters that need attention with delaminating plywood. There is a lot there to do, and a fixit list a mile long. Time is moving too quickly with Set Up! starting just about 10 days from now. I find myself juggling more than usual. Tracy's Pond is going in this Fri/Sat, and one of the things to prep for that was to paint the buckout on the Living Room Window. There was some paint peeling in the gable and it was easier to deal with, while the pond was not there. What's the song, "A long way to go and a short time to get there" is now in effect. No computer work to speak of. I am adding songs, but having some help with them. I need to work on IceZee too and maybe he will get some attention next week if possible. So we are almost in full swing. More updates as we can get them done.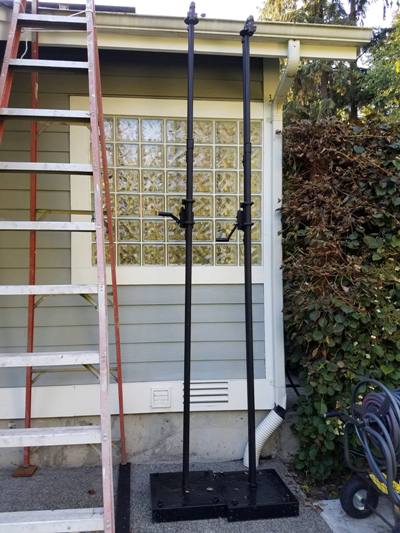 9-2-16 - Well Fall appears to be creeping closer, and there is a hint of it in the mornings of late. The past few days we had a bit of rain that was badly needed. With 2 camping trips back to back the last 2 weekends, that leaves Labor Day weekend (this weekend) for some work around the house. I need to get some painting done, and in a few weeks, Tracy will get her fountain/pond in the front yard done. I have some prep work for that. Then I have to figure out the lighting, and how to use it during the Season. The dolphins that have had hats on, and in the "River That runs Through it" will be in the pond. Before that, the gable above that pond needs painting. That is the project for this weekend if it does not rain. Today I also bought some marine plywood for the redo on the Peanuts Nativity, Snoopy's Dog house. The other plywood is to remake Thomas the Trains tracks. I hope to limp him along one more year with some track mods, and then rebuild the engine to make that way more efficient. No computer work yet, but that will change at the best next week. I am doing something different and paying a company to sequence the majority of 3 new songs. The big thing to focus on is IceZee. He HAS to get into the show, and may not get the Master of Ceremonies role, but, he has to sing his song, and bee bop in all the other ones. The present gang needs to be re-done in the show to be back up singers, but they will just be bopping again this year. I saw these Really BIG Lights below some time back. I ordered a set to use this year, and am looking at possibly using a bunch (27) of the white to put in the Road Tree for the 2017 Season. They are interesting enough to think about using more, but unsure of how. I have a few thoughts. The calendar is getting away, but there won't be much new (except for songs) but hopefully more complete over all. My volunteers are weighing heavy on my mind as Woodinville High School failed me so miserably last year. I need to put the thinking cap on there. The neighborhood FB pages may yield some hope.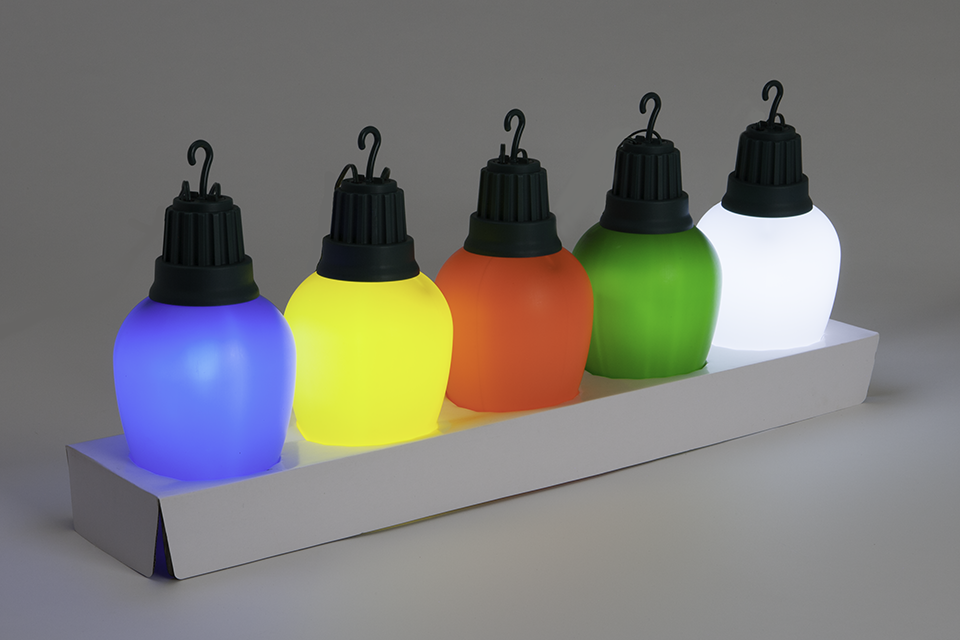 8-6-16 - We are officially underway with projects. Got my list of things to build or fix. First up was to create a device I have use in other areas of the display, a Portable Hole Lite. The brainchild of Walter and Jackie Monkhouse of Magic Christmas in Louisiana. 2 dear friends and fellow decorators. Walter came up with this idea a few years ago, and I employ 2 of this guys big brother, the Portable Hole. I am making 2 Lite versions this year to help me with getting Elfis and Rudy up in the air. I usually have 2 - 3/4" gas pipe frames to hang them, but those take about 3-4 hours doing it myself. They require guy ropes to stabilize, and I inevitably hang myself running into the ropes all Season, because they are black. These Lite Holes will then be coupled with another of Walter's designs, the ASAP. Which stands for A Strap And Pole, to allow me to winch Rudy and Elfis up in the air. More to follow as I progress through the build and fix season.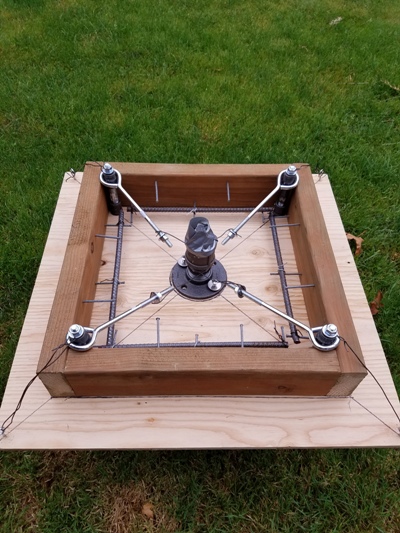 7-21-16 - I am officially an invalid for at least 3-4 weeks. Carpal Tunnel surgery this past Tuesday puts me out of commission doing much of anything. Typing is a PITA with a splint on my right arm. I have looked into getting some help for a few songs, and some planning for the Season can start as well. I don't do well not being able to do much. Perhaps I can get the pictures from 2016 posted on the webpage.........


7-18-16 - Well another Christmas Expo is in the books. Tracy and I got home yesterday afternoon, and unfortunately I carried home a head cold. Oh what a time we had. It was soooo much fun connecting with old friends and decorators from around the country, and forging new relationships as well. The sad fact is that it goes by too fast. The current Expo management and Education Committee members blew me away with an award as pictured below. I am not good at recognition in this sense, as I feel there are so many others who give more to the community and hobby. However, it is good to feel that your peers respect who you are, and what you do. For that, I am humbled by this. Now that I am home, there is a scheduled Carpal Tunnel surgery that I have to have on my right wrist. Now if you recall, this is my GOOD wrist. It is in much worse shape than my left from a nerve standpoint. Which, by the way, the left wrist needs it too, but it will have to wait till after Tear Down in 2017. So I will be out of commission for 3-4 weeks. Now that Expo is behind me, and with the restrictions I will have for a few weeks, I guess I get to start the planning for this years display, and start my computer work. That is all I will be able to do for a couple weeks at least. The main focus is going to be getting 2 new songs added, and ensure that IceZee gets a part in the show. I may juggle the yard a bit, again, and there is a lot that needs fix it attention. Before we went to Expo last week, and just before my birthday, Tracy and I flew to Florida to be with my sister and her family for a mini family reunion! We had a grand time there with my nieces, and husbands, and great nieces! They are growing up so fast. So the past 2 weeks have been 2 nothing but travel for Tracy and I. Thats all for now, I will post more after surgery and as I get more seat time on the computer for the Display planning.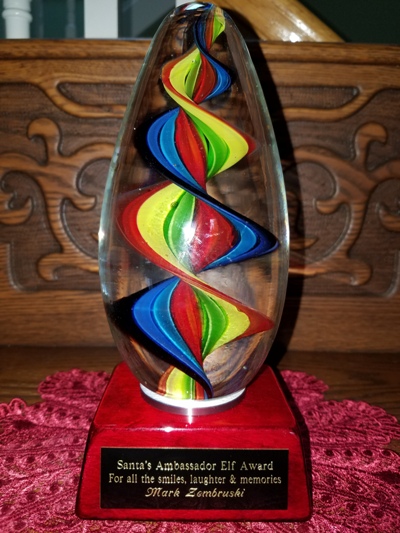 5-19-16 - Hard to believe its been almost 3 months with no update. Mainly because there is not much to report on Christmas, the story has been water issues in the HOUSE! Argh! Tracy went to Hawaii as mentioned in January, and I decided to replace the downstairs water stops to 1/4 turn jobbers. Well, that proved disastrous to some extent. To summarize. The laundry room sink had 2 major failures of the stops. Both about 3 weeks apart. Both were caught relatively quickly so no major damages, just inconvenience. The carpet in the Master Bedroom had to be pulled up twice and dried out. The water stops themselves proved to be the culprit. Of which I am not happy with the product McLendons Hardware sold. The issues were not enough to individually warrant a Homeowners policy claim. THEN in between those 2 events, while I was on the east coast for work, one of the water lines in the Master Bathroom (yes that was on a NEW water stop I put in) failed. Tracy caught that one quickly too. When we built our house, we put carpet in the Master Bath. Not a wise decision then, but warm on the feet in the winter. The leak made us decide to pull out the carpet and put down marble tile to compliment the other marble tile for the walk in shower. So we are extremely sensitive to water anything these days. The house just this week got put back together with all the doors back in place (almost). I have to pull the Master Bath door back off to trim the bottom a bit to account for the slightly higher floor the tile causes versus the carpet. Tracy's car lease is up in August, so she has had me out looking at new rides to replace her "Beamer". That search is still underway. The end of April saw our local Christmas PacNW Christmas gathering, C.L.A.P. What a great day! We had 60+ attendees on a Chamber of Commerce day. The entire day was focused on Christmas, Yah! In early April the effort I assist with for Christmas Expo, got kicked off. I am part of the Education Committee and we are getting ready for the conference in July. March saw a trip to Naples, FL to visit our friends the Allison's. We flew down on Easter and had a week of nice weather, golf, and great times. A badly needed week off. This was make up for missing my time off in December with work. Work has been extremely busy all year so far with no let up in sight. Somewhere here soon, I have to schedule a carpal tunnel surgery very soon on my right wrist (my good wrist!). THEN sometime early next year, I will do the left wrist that I broke last year. I could do them back to back, but that would put me out of commission for almost 3 months. So then the Display. There has not been much time at all to focus on that. That has me concerned as there is so much I had planned. I am halfway thinking of scaling back a bit this year, but I am not certain on that either. All will depend on how the next few months go at work and home. Whew! So that was a TON of update in a short paragraph. I hope to get another update sooner than 3 months from now. Thanks for checking in.


2-23-16 - The days are noticeably getting longer, but Mom Nature is sure not wanting to let go of the rain. We have had record rain falls in WA this year. Seattle typically gets approx 34" of rain a year, statistically very close to Phoenix, AZ (how bout that!). I heard that from Oct 1st to Feb 1st we had 32" fall, and we broke the Dec to Feb winter total that is over 22". Man that is a lot of water. The lawn really needs some serious attention this year, and I started that process with moss control and lime that was applied this past Sunday. Today I will finalize the donation totals. Again, it has taken me longer than usual to get this squared away. $7437 total for the year! A new record for us. Our visitors rock, no doubt. SOWA and the Northshore Wranglers appreciate what we do for them, and they are great to work with. On Tear Down, well since I mentioned the yard, before I could apply those items, I had to get the last of the items off the lawn. The Spiral Tree, Tree within a Tree, and Thomas the Train's tracks were still hanging out. Sunday I got them taken down first. There are still tree trunk wraps, the C9's on the house and one window wrap. Outside of putting stuff away, there needs to be some organization in the garage to get things squared away. THEN I can start the real Honey-Do's. Tracy wants the Dolphin Pond complete and a new arbor off the back patio to replace the one we had. Work has lightened up some, but 2016 already has shaken out to be a busy year. There is one international trip planned for May, that being a trip to India. Bangalore for sure, and possibly Noida which is outside of Delhi. Our C.L.A.P. meeting is April 30th and I may have to jump on a plane the very next day.........


1-25-16 - Well I have been baching it for almost a week. Mrs Claus went to Hawaii while I stayed at home to work and break down the display more. I am owed a lot of vacation time that I missed over the Holidays, and took last Thurs/Fri off, but it was to work on Tear Down. The weather sucked! Thursday I was in the garage most of the day, but the times I had to go out in the weather, I got drenched even with rain gear on. The Tear Down has gotten off to a slow start, simply due to residual Honey-Do's that needed attention, because they were ignored all December long or before that even. I have a list of things I squeeze in while I can. Finally this past Sunday, the weather, calendar and clock aligned to let me get on the roof and get the majority of items down from there. Saturday with it again pissing all day, I built a shelf in the Shed covered area for what will be pixel and icicle strings from the RGB and Icicle Trees respectively. The primed view is below. I need to get paint on it, only then can those 2 trees come down, and the Window Wraps that get hung below the shelf. I have gotten quite a bit done at least in the past week. However, there is more yet to come. So the focus will start to turn to our local Christmas gathering we call C.L.A.P. scheduled for April 30th. Also the big Christmas Expo Conference I have helped with the past 2 years, the city was just announced. Chicago in July it is I guess. So I will keep this short to get outside and get a few more things done, display and Honey-Do!.........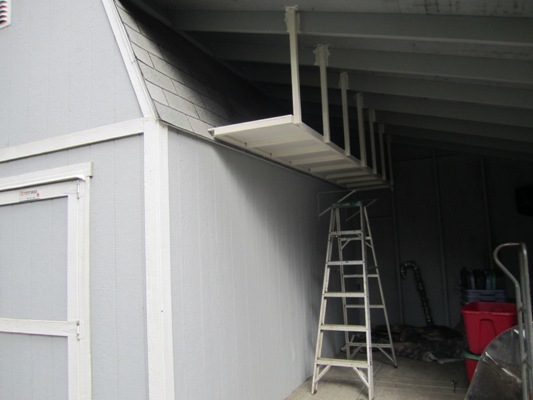 1-3-16 - Alas another Season has come and gone. Closing Night is always met with bittersweet emotion. We do work hard to put the Display up. We enjoy it almost more that our visitors. So shutting down after only 33 days is sort of anti climactic. We finished up with new friends and neighbors, both of which should be adding joy of their own to the Season next year. Tracy dismantled the inside of the house yesterday, except for the Tree in the Window. I love our home during Christmas. It is festive, we love to entertain, and sadly that all now ends too. I have some reflection to complete on the display, photos to get of the various new elements. The RGB Tree became reality finally. So there is work to do in the offseason, and the intent is to revamp the show, and finally get IceZee running things. Keep following us. Thanks for all your love and support.


1-1-16 - The start of a New Year. A day of hope, healing, reckoning, resolution. A day I normally just lay low and chill out. I usually need it by now, and I really do, but however, not today. I will try snowshoeing for the first time. With my abdomen injury I am told I need to start pushing things a bit, not over doing it, just extending. I have not mentioned that much in this Blog, or even out greeting visitors. I mentioned more about this back in my August/Sept entries. During the month of December, with all the running outside, battery for Thomas the Train, etc... I really did not need to do my PT at home. Part of that too, was there was no time to do my PT this month due to work. So I now need to focus on getting myself as whole physically as possible. I am not one to usually make New Years resolutions. I do get very reflective during the Season in general, this year, I have not really had the opportunity to do, so. So hopefully today in the grandeur of Mom Nature, clear skies, crisp cool air, I can look at things in the right perspective. I always remember how blessed I am now and throughout my entire life. I try not to forget that. Alas, there is 2 more nights for the Display. I went out last night and looked at all the maintenance I did not get around to fixing due to my work schedule. The Display still looks great, but needs attention. I hope to get pictures myself, and a regular visitor took a lot plus video, and I will sort through that to post my Photo Entries for 2016. Peace, love and happiness to you all in 2016.


12-27-15- Sorry the lack of updates here. It has been crazy. Work completely tossed a wrench into all plans and activities. I was head down, basically 10 hours till time to set up the Display, manage the street, work a bit after Shut Down, go to bed to start all over. Did all my shopping online. I am exhausted right now. I worked last week, which is supposed to be off, and I will work again this coming week till this project is presented to the customer. I will get my time off after the 1st of the year. The week of Christmas saw our traditional visitation ramp. I lost all my WHS volunteers. Not a one showed up. That was very disappointing. If it was not for my neighbor helper Jacob, one of my best buddies Bruce Lobree and a new friend, Christopher Kent, I would have had to manage all the street and parking myself on my busiest nights. Bruce and Chris came out Christmas Eve THANKFULLY! Our family gathering for Christmas was at the Woodinville Grange. We rented it to have a larger more open venue, which turned out great. Bruce came on Christmas to manage things till I got home at 7pm. Tracy and I normally have a long fun day shopping, and it was Christmas Eve to have lunch, and split up to get things done for Christmas Day. Sadly IceZee suffered in all this. Once again, he was not active in the Show. He looked great in his new stage. His one song got about 1/2 done and remained there as I just had no time. Even regular maintenance suffered some. Christmas Night I noticed some weird stuff happening on the roof, and yard. After focusing on it, I had to replace one of my wireless waypoints that controls the roof and DMX universe. Once that happened, the roof then looked like it should. The visitors have been awesome! A lot of newbie's and some really LONG time visitors who continue to support us. I have no idea where our donation total sits as I have not been able to sort, straighten and count the monies. I am going to see if Tracy can spend some time tomorrow on that effort to get running total. So we have one more week and I decided to close down on Jan 2nd. I hope to get some pictures and possibly video of the display. I had some long time guests, the Pittman's take a lot of shots and vids, so I am hoping maybe something comes out of that. The RGB Tree has gotten A LOT of attention. It too needed tightening, since I had really not seen that programming in 3 years. I will have to scrub all my songs to really get that to look even better. I only noticed the glitches in programming, but it still looked marvelous. Man, without regular updates, I know there is sooo much I am missing. I will close for now to get some more work done and then go to bed.


12-16-15 - Well my 2 week break evaporated for now. It looks like I will be working the next 2 weeks. I was looking forward to that time off, and it will probably happen in January. With burning the candle at both ends and then the middle out, I am now fighting getting sick, not surprising with all the directions I have been pulled this year. The by product is that Ice Zee may only just be a vision in the display, and not an active part. That will be disappointing, but, hey, he is looking good, and giving folks a taste of what's to come. 9 more days till the BIG day! Plenty of opportunity to come see us.


12-13-15 - My oh my. The week we just went through was un-precedence in all the years doing a display. 10 days, 5 major storms, almost all with wind and rain. Finally last night, the wind got us. It knocked out the power at 9pm on a Saturday. Not good. We had a house full of guests and visitors. Not too many on the street, but they still had to be escorted to cars etc... Then I found out our backup generator lost the AC output. Without knowing how long the power could be out, I found a neighbor who had a spare just to run the 2 fridges. I personally am worn thin. I have 2 more grueling days and then a bit of a breather through the remainder of the year and Display Season. The yard needs to be blown out with some of the debris, but at least we are running. We have some maintenance to do, and I lost a controller tonight, that needs replacing. OK so off to close the show down, push these updates out, and get some work done for my regular job. Keep checking in.


12-11-15 - WOW! is all I got. What a week and a half. We went from cold to warm (relatively speaking) and then wet, Wet, WEt, WET! On top of that was wind. We must of had 10 inches of rain in 10 days. Our Season got off to a bit rough start, as one of my key Elves, Don Kohler helped me get 300+ connections done on Sunday before Light Up! Testing that night went to the wee hours of the morning, 1:30am to get a punch list. Monday the 31st was spent getting the major issues taken care of. The RGB Tree, fired up, and tested fine, but was a bit "off". I had a firmware update for it on Dec 1st and installed it. More on this. On Dec 1st, we did some final testing and delayed Opening Night! till 7pm. Some of our regular visitors were out there chomping at the bit to get going. Don Kohler and his wife Roxy were here, Don has been a Godsend this year for me. Without him, we probably would not have made our Dec 1st schedule. ight at 7pm, the Show started and was a bit rough as Opening Nights go. The RGB Tree, looked awesome as it was WORKING finally, but there were a few glitches in it. Some edits to configurations, and checks of everything yielded slightly better results, but was still off. Then on Friday, Dec 4th, another beta firmware hit my inbox from Advatek. BANG! it was ALIVE! Oh man, I was doing a happy dance at the Street Entrance almost all night! I finally saw that tree operate as intended when I started 3 years ago. The Madrix programming was rough, but also the majority of that was set 3 years ago and never seen, so never tweaked. As rough as it was, it was marvelous! All the visitors were very impressed. Things were moving in the right direction. As usual, items had to be fixed that had been sitting idle in the elements for weeks. That punch list is still in place and has quite a few items on it, most guests would never know. The one major exception, is that the Road Tree is still not lit. I hope to get to it. Ice Zee's new stage looks great, the Present Gang is getting a lot of uuhhss and aahhs. Thomas the Train. Well we thought he might be a static item all Season, but even he is cooperating. However when the weather gets very cold, he does not run. Oh well, I need to re-think him for next year. Now for Mom Nature. Oh MY GOSH. We were (and still are) saturated. All our rivers are at flood stage. The wind. While we did not suffer much damage, the East Yard was dark Tuesday Dec 9th due to the fact that the Northpole sign took a header in the wind. While not significant from a Display perspective, the only thing broken was the actual North Pole plaque at the top. However, the communications for the East Yard equipment sits on top in back. So it just made sense to wait till I rebuilt the base for the Pole. All is fixed at this writing. Other display Goomba's did not fare as well. I noted on Facebook those with issues. I am looking to make a big sound adjustment this weekend. I am going to use a job radio in the East Yard, but put outdoor speakers in the main Display area. This will give me one point of adjustment to those 4 sound points and improve the sound quality greatly. Impeccable timing, as UPS just knocked on the door and delivered the new speakers and control center! They will go in the Display tomorrow! So we are off and running. I guess one more update, is that I am having some logistic issues with my normal Woodinville H.S. volunteers. Tonight I will go off without anyone, except my faithful Elf buddy, Don Kohler. Did I say he was a Godsend? Work tossed me a Hot Potato project, a critical customer presentation this coming Tuesday, so I have really been max'd out. I need a nap before the show goes off, and to check one set of lights. Thanks for checking in. There is a lot more, but this gives you a good taste!


11-30-15 - A quick update. "Baby its cold outside" has been the case for a week. Temps have been in the low 20's at night. The past 2 weeks have been productive, but hindered with a 36 hour power outage, and now the big FREEZE. The display is set up. Almost all the connections are complete. Yesterday was a 17 hour day to finalize most of the connections, and do a test of those connections. Now starts a long punch list. Some of which involves the roof and with the cold, it is not safe to get up there. Typical logistic items, but the cold has not helped things at all with regards to sitting idle. I am hoping for a Light Up! and Opening Night on our planned date, tomorrow Dec 1st. I am back at work today and will get to the Display about noon to get working on things. A lot yet to do. Please follow us on Facebook too. While I love doing the Blog, it is a weird way for me to release and express things, but I have to make an cognitive effort to update it. More of an update once things get rolling for the Season. Thanks for checking in.


11-10-15 - A good weekend last weekend despite the fact that I did not have my neighborhood helper. Instead I had to call on neighbors and buddies to get 2 more trees out into the yard in their respective locations for this year. The Spiral Tree and Tree within a Tree get assembled in the driveway and then hand carried out by 4 of us to the yard. With my abdomen, I had to bow out and get 4 helpers. The West Yard is pretty set now. Center Stage and the Street Entrance is getting there, and the most sparse so far is the East Yard. Thomas the Train is getting a work over on the tracks and once done, and the tracks get in place, the rest of that vignette can get set up. Everything is out from under the house. So the Blow Mold collection sits outside my Home Office window and has been slowly dwindling as they get put in yard locations. The west roof pitch got a makeover as well, and I really liked how it looks. Next is to see it in action for the final judgment. Tracy started Woodinville Wonderland Inside, early by all accounts. She wanted to get a jump on things as things always seem to take longer now. What's up with THAT! This always poses time challenges as she does such a fantastic job of decorating, but certain things she needs help with. One of those, is the setting up of the Tree in the Window, which did not make it out last Season due to my wrist injury. I have started on that, and am coming to the sad realization, that, yes, we are getting older. Debugging the lights, I have a highly specialized tool to assist with incandescent mini lights. It creates a buzzing sound at the bad bulb/socket. My buddies say how they get help now with this and I always shushed them, as I had no problems. Well I got problems now! I can locate the area, just not the exact bulb. So I ordered a stethoscope to help with that one! So that Tree set up is going slower that needed due to that. Since the Tree did not make it out last year, there are a lot of lights that are out on the tree. Way more than usual. So Inside is transforming, I have my things to help her with, and still need to balance outside and the remaining computer work. I am off work as of this coming weekend until we Light Up! Not sure Mom Nature is going to be kind, because the long range forecast right now looks wet all the way through Thanksgiving! Time to push an update, and get back to work! Thanks for checking in.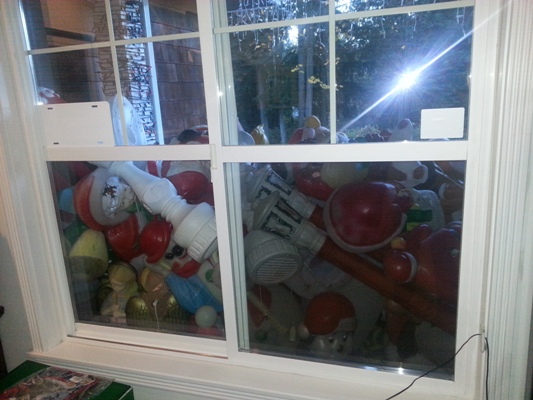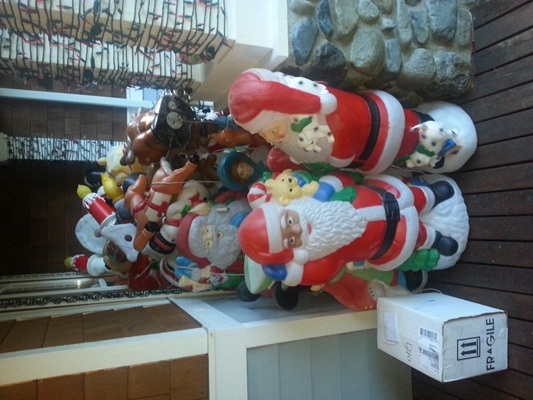 11-5-15 - I need a break tonight. Don Kohler came over yesterday and we whipped out the Sprial Tree, and I had him start the Tree w/ in a Tree while I finished mowing the East Yard. Tuesday I started getting all the crud up off the lawn. Oh my. That was a lot of work. It took me hours to mow 2/3rds of the yard, mainly the West Yard, where all the cedar dropping were. There had to be over 1500lbs of that stuff to get up off the lawn. However, the point to note, is that it is UP and the lawn is mowed. Below is a picture of the size of leaves I have to contend with. Fortunately these only fall in one part of the yard, but they laugh at the mower when I try to suck them up. So after Don left last night, I got a bite to eat, then started hauling out some Leaping Light Arches for the RGB Tree, and Icicle Tree that is already up. I set up the Lighted Forest for the Icicle Tree vignette, and the train wireframe was taken down out of the attic, tested and put out in the yard. It is not secured yet so I hope no wind crops up. I started Ice Zee's song this past weekend. It will be slow going, but should be done by Dec 1st. So tonight, I gotta take a break as I had some things to get done at work, early Physical Therapy this morning, after a late night last night in the yard (11pm). Tracy mentioned she was possibly coming down with something, and I felt some wierd things too. So a break tonight, update all you with a Blog entry, then find the coach to veg a bit. Below is a picture of the RGB Tree all set up and ready for testing. It only needs controllers, comms and power to get fired up. Possibly this weekend. If all goes well, I can run it at night on Fridays and Saturdays in support of UW and the Seahawks. Give it some added burn in. Starting the 14th, I am off work till we Light Up! Updates will be fast and furious here and on Facebook. Thanks for checking in.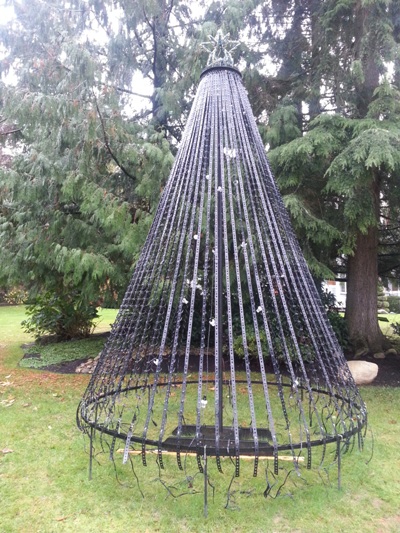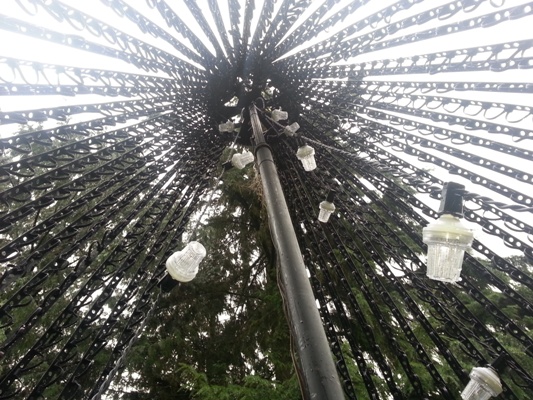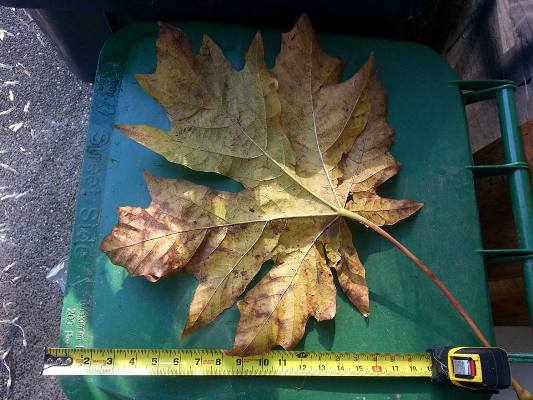 11-3-15 - A productive weekend despite Mom Nature. She opened the faucet and turned on the fan Friday and Saturday. I thought I might get a chance to start the major clean up on Sunday, but NOOOOO. The yard was saturated, AND it rained more on Sunday. The yard was sloppy. The big PITA this time of year is the cedar droppings. They get wet, heavy and plastered into the lawn. So it takes mowing, raking and mowing to get them mostly up. That will have to wait till the yard dries a bit. Maybe Tuesday or Wednesday. So thanks to Jacob, we managed to get all the stuff out of under the house, and tested. The Candy Canes on 236th are in place, and most of the Road Arches in front of the house. Turns out somehow, I am missing a few brackets for those, and had to order a few more from 3G Lighting. I don't have time for a search and rescue, so Mike there is sending out some new ones. Jacob has been a great help, along with Don Kohler & Pete Peters. Between at least Jacob and Don since they are very close, if I get more help from them here and there, I should be back on schedule soon. I guess most of it is that I am off the way I normally go about things. I have 2 weeks off, and 4 weekends in November, so I should be OK in the schedule in the long run. I still have to get IceZee's song done, and then get him into more of the songs during the show. The RGB Tree is completely up, tightened up and possibly ready for a test at any time. I just have to put the controllers out there, get the comms in place, and fire that baby up for a test! So probably later this week. So I push this update up, take a break from the garage and do some sequencing! GO BABY! Keep checking in.


10-29-15 - BOO! OK that is all I do for Halloween...... Friends of mine, also Christmas decorators, are quickly trying to get things rolling for the next few days to raise the dead so to speak. Here its all I got to get Christmas up and running. A lot has gone on in the last few weeks, albeit in reality I am very much behind schedule. Due to my abdomen injury, I could not get onto the roof, plus Mom Nature did not comply when I had some help. However, the house Icicles are up, and the roof/house is starting to shape up. There is a lot of lights on the house and bushes that are not there yet. My large Icicle Tree was the first major item up. As of this writing, the RGB Tree frame is up, pixels have arrived, and I tested them, and got them into the strips, and hung on the Tree. Everything needs to be tightened up, and finalized. That Tree I hope will finally be the spectacle I have planned. Both Tree within a Tree, and the Spiral Tree frames are up and waiting on lights. The Candy Canes line the driveway as well, plus some of the Road Arches for the East Yard. I am working on Thomas the Train track to hopefully make traction better as well. This time of year, I really attempt to bend time due to all my time constraints, but needless to say, I am juggling, and that includes Tracy still tossing Honey Do's at me too! Friends, Pete Peters and Don Kohler, have helped out so far, and I have secured one of the Neighborhood kids, Jacob to help out. Jacob gave a hand last year with yard stuff. Speaking of yard stuff, Fall is a bit late, and there has been one cedar dropping so far. The leaves are doing OK, but we need a bit of a breeze to get the next set of cedar droppings to fall. They are actually the main PITA in the yard. The leaves are tough to get up since we have some maples, with HUGE leaves around us. This weekend they are calling for some wind, and that would mean a full day on Sunday getting the yard cleaned up, and then lights too. So it is beginning to look a lot like Christmas, but there is SOOOO much to do, and yes, I am behind. Keep checking in, and look at the Facebook page as I can update that a bit more regularly.


10-9-15 - Slow but steady progress on the computer work. My RGB Tree is making me nervous, because the pixels are not yet in hand to get those stings finished. I am trying to get an update on delivery. I am fixing LED strings and checking lights now, since that is all I can do at the moment. In that, I took a look at my DMX floods and had to send 5 of them in for work as they had LEDs that were out. Complimentary elements got delivered for the Present Boys. I am getting excited about the layout. There will be just enough different to really give some sizzle to the layout. In a normal year I would have been on the roof last Sunday, but that is not in the cards for a week or so...... Keeping my fingers crossed, I see my Doctor next week and will ask him what he feels my limitations need to be moving forward. Off to do more computer work, maybe get in the garage later to assemble a few things............ We are rolling now. Keep checking back.


9-25-15 - If you are checking in here and not on the Facebook Page its time for an update. Since the injury is hindering what I can't do as far as lifting, exerting etc... I have to focus on what I can do, and that is light garage fixing things work and computer programming work. There is going to be 2 cool new vignettes to compliment Center Stage. Part of this is to get IceZee into the Show. The other part is something that was re-purposed to us from Mike Ziemkowski, of Sherman Oaks, CA and Lights on Display. Mike is a fellow Polack and very cool decorator, and I get to call him a friend. He has been doing Christmas, Characters, animatronics, etc... forever. Our hobby has gotten more ideas from Mike than almost any other decorator. He is IceZee's Dad so to speak. Mike has his company Seasons Greeters, and he wanted to update his own Display this year with the new generation product, so he flipped me his Present Elves as seen below. Not sure what I will call them yet, but I am leaning toward Snow, Moe and Bill (say it fast). Sorta fun. This year they will be bopping about, not sure how much background vocals they will get. Between IceZee and these boys, a lot of the Show needs re-vamping. All most likely 2016 updates. I have a handful this year already. I have started my computer programming work. A huge thing is to refresh and update the "master template" which then gets overlaid onto all my older material. Only THEN can the new updates be programmed. A picture of my Animation screen is below, and it assists me in my song updates, and actually now better reflects the yard set up. Especially the Icicle Tree and Mega Forest. There is a plan for 2 new songs, we will see how aggressive that is. I have new hardware for the RGB Tree in hand. The pixel risers are made and waiting on the pixels to arrive and get plugged (literally) into the material. That frame will need some work to accommodate the new stringers as it will be slightly taller! In the garage, I have started fixing light elements that have LED light problems, and attempting to create a plan for when Set Up starts, what can I work on first, since the roof is out at least till the middle of October for me. So there is going to be a LOT of new things to see and experience this year in 2015. I hope I can get it all done in time, tick, tock!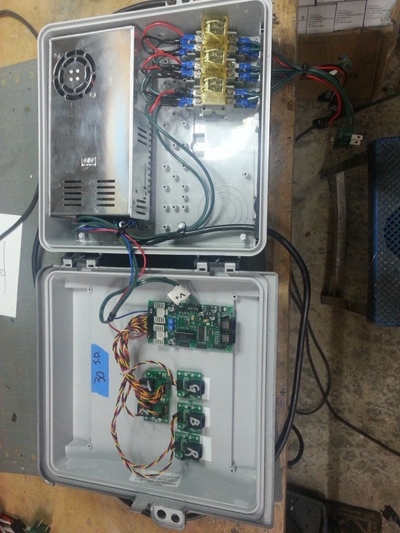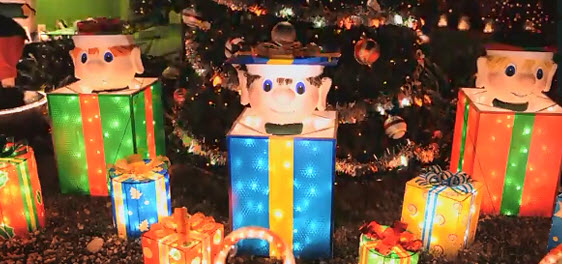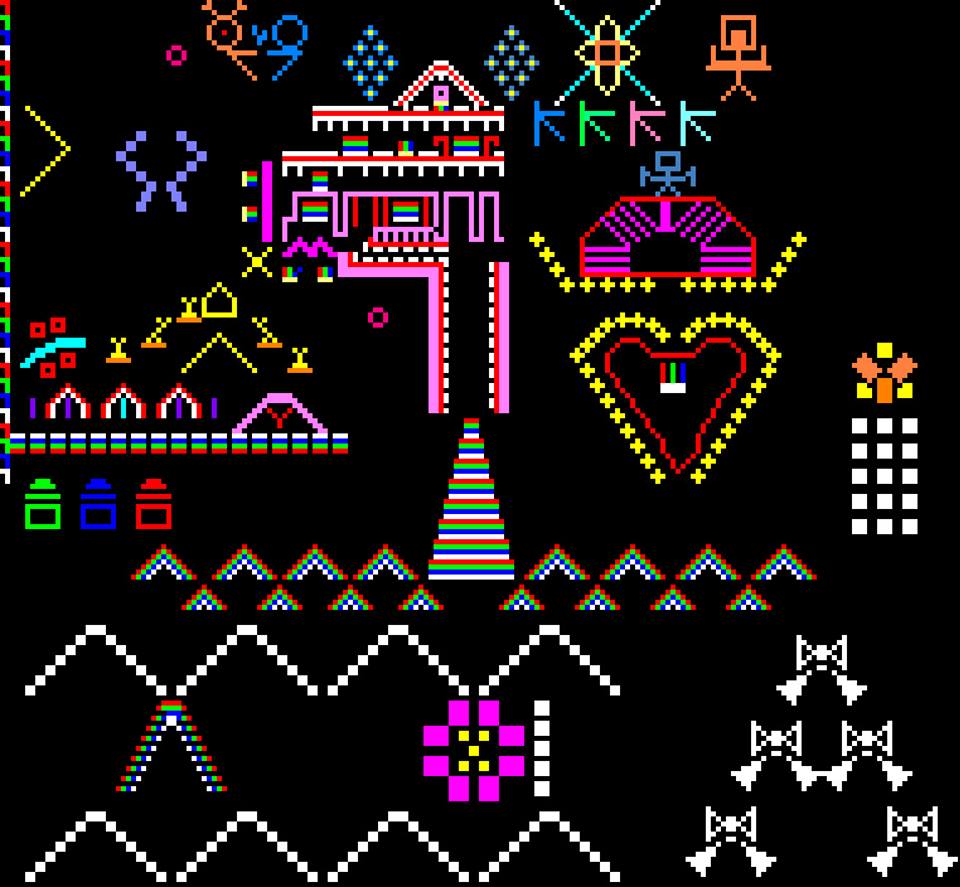 9-1-15 - The abdomen situation is still a bit iffy. They are taking the approach to address things with physical therapy for now. While still a serious injury, they are not looking to surgery right now. They can't rule it out, especially with one of the muscle tears, but hope that PT does the trick. I start that effort today for 2 weeks then follow up with my GP after I get done. Over this last weekend, on Saturday, we had a weird storm blow through, literally. Rain and wind. Knocked power out for us for about 20 hours. Storms like that usually occur in late Oct or early Nov. I rely on those storms to assist with knocking leaves down, but to have one like that in August is very strange. No damage to our yard, per se, just a few branches down, but a mess in the yard for sure. I spent the first part of Sunday blowing debris out of beds, from the street and driveway onto the lawn to mow up. I started to mow, and realized I was pushing things too much with the injury, so Mrs. Claus, Tracy, thankfully finished up. I am not supposed to be pushing myself, nor lifting anything heavy for a while. With the yard cleaned up, there is the matter of the front yard fountain. That may have to wait a week or 2 after Labor Day to get a buddy over to help get things finished up. We will see. in the mean time, I can work on small projects, and get things moving inside on the computer for 2015's display. We will have to see how things progress and hope that I can get some help from my new neighbor Ian (who has child coming any day now, and wants to get involved) or get some of my elves from last year to help for a day here and there. More updates to follow, that's it for now.


8-26-15- Well life just continues to pummel me. Taking a long weekend in Idaho visiting friends, I managed to completely trash my groin/abdomen while wake surfing. I can't believe it. My wrist last year, my mid-section this year. Today I am seeing the Seattle Seahawks Orthopedic Surgeon to see what my fate is going to be. I have been walking around for the past 10 days to some extent, which by some is amazing in itself. My regular G.P. is the former Seahawks Physician and is very well connected and got me into this specialist. The injury I have is not very common, and to list the details makes me even wince. So needless to say, my display has been on hold for other reasons, and now it continues to be on hold till we get past this appointment today. Over this past weekend, Pete Peters our long time electrical guru, and close friend, came by to install "D" rings on my roof so that WHEN I can get up there, I can clip in. Tracy is happier now, but who knows when I can get up there now. We are still waiting on the new RGB Pixels to arrive, and they should be early September. The items we bought in Ft Worth while shopping at the Decorators Warehouse there have shown up. A lot of that is to build out Ice Zee's stage, and to create a really cool, Kodak Moment spot for our guests. Mike Ziemkowski generously flipped me his older elf presents, and they will be re-purposed here. I will ensure they have a great new home, and we are looking forward to getting them into the 'Show". Anyway, I just wanted to post a quick update, keep me in your thoughts and prayers as I head out the door for this appointment.


7-19-15 - Just getting back from a week in Ft Worth, TX and Christmas Expo! What an amazing, AMAZING time. While a tremendous amount of work while there, since I was teaching and helping, the energy, seeing old friends, getting to see forum buddies and meeting them for the first time face to face, was just phenomenal. 2015 Christmas Expo was definitely a success, and it was great to be a part of it along with my peeps who were either on the committee, or buds from WA and other states teaching subjects. I am beat, as we just got home. I am posting my class presentations for folks to grab before the CE site gets populated. It was HOT in Texas. Every day was 95-100+ degrees with a fair amount of humidity. We got a chance on the front end to chill a bit, run Tracy around to some quilt shops to get some kits she wanted for a big national quilt of some sort. We spent some time at a place called Decorators Warehouse, self defined as the largest Christmas Store in Texas. While we have no idea if that claim is true, it was HUGE for sure and we dropped a few centavos on some display items for the house. We will be using some of this to modify Ice Zee's stage, and attempting to create a true "Kodak Moment" for our guests. We will see how far we get. There is so much momentum coming off this trip to get moving on the Display, however, next weekend we have a wedding to attend out of town, and I have the fountain, plus a pergola to finish for my great friends Bruce and Rosy's wedding. Now to unpack (literally), do some catch up around the house, and for sure, attempt to go to bed early tonight.


7-2-15 - A big order was placed this week. Advatek Lights was the vendor selected by us to be the pixel technology for the famed RGB Tree. This effort started during the 2014 Season, and progressed through the year till now. Greg Young of Holland's Holiday Lights, The Monkhouse's of Magic Christmas, Darren Huffty of Christmas on Cyrstal Springs, and Pete Peter's of Christmas at Pete's were all part of the discussion. Advatek is in Australia. Luke Taylor the principle owner put up with endless questions, via email, IM, Skype and phone calls from all of us. He was revamping his pixel technology line and the product, warranty and pricing all were weighed in this decision. I think all of us are excited for this to come about. We won't get the items to start working on till late August, so there will need to be a big effort to get the pixels restrung into a new configuration. This will increase the height of the tree at bit, but it should be the marvel we set out to create 3 years ago. Bell Wireframes showed up for the new addition. I hope to get those in place before the pixels arrive in August. These will hopefully be accompanied by a new song for our neighbors across the street. I started to look at options to get Thomas the Train chugging better in the display as well. I only have 2 projects at the house standing between me and the 2015 Display. The Dolphin Pond and a Pergola. Lots to do and time is now already running out.............


6-23-15 - A bit more timely in posting, and mainly this is a test. With the new home computer, what I call the Build Computer for the Display, as mentioned previous, I ordered a new one. Switching over is always time consuming, as I have to ensure everything vital to household, life, Display etc... has to be backed up, moved, then ensure things are running properly on the new one. I am in the final stages of completing. This is one task. The website. I use an older tool to manage it. So this ensures that all gets transferred both ways properly. 2 of the trees will be getting new base rings. There are 5 altogether. So the Tree within a Tree, and the Spiral Tree are affected. The rings are now assembled, cleaned and hopefully today they will be painted. At least movement on the display! One more significant Honey Do on the list and one pergola to build for a very good buddy of mine. Tick tock...... THanks for checking in.


6-12-15 - Wow, 2.5 months since my last update. This has got to be one of the longest dry stretches in my Blog ever. Sorry about that. Needless to say, it has not been all fun and games. Where to start. Shortly after my last post, in April our Golden Girls, Jasmine and Deeogee turned 14. 3 days after that, very sadly we had them both, together, walk across the Rainbow Bridge. We were devastated. Our companions, our source of joy, the light in our lives was gone. Both had individual health related items that help us make that decision. Had we let one go, most likely within weeks, we would have had to let the other go. So it was better to take one sad day than spread it out. We had someone come to the house, and Tracy, Chris and I were all around them. As sad as it was, they left knowing how loved they were. It was a very symbolic day, as we had beautiful weather up to that Monday, and then that day, it was dark, gloomy, and rainy. Now you think that is tragic, and it was, but our story is not over. Since January, Tracy's Mom had been in and out of the hospital. Mostly in. Battling many, many things, but initially it started with the flu and pneumonia. That manifested into complicating her congestive heart failure she had been battling for a few years. Other complications ensued. Alas, one week after our Golden Girls, almost to the hour, we passed Mary into Heaven. A gut wrenching 1 -2 punch in our lives. Tracy is still having a hard time with it all. Her and her Mom were so very close. They shared sewing as a passion together and spent much time in sewing rooms, and classes collaborating. With all this, I made the decision, that the Memorial Heart we did for my Mom 3 years ago in our display, will be resurrected for Mary, Jazmine and Deeogee. We will feel this loss for a long time to come. But life goes on. During that time, I was still in PT for my wrist. There is no bad news on that front. I am mostly done with PT visits, and doing stuff at home, and now working the wrist to get it functional. The feeling is S-L-O-W-L-Y coming back to my thumb, index and middle finger. Typing has gotten SOOO much better, finally. It will be at least 18 more months before things fully settle down and I see what it will be like for the rest of my life. At this point, scar tissue still hinders it, I still have discomfort and it is still weak. However I do see progress. Come October and Setup! we will just have to go with what it is. At least I am able to mow the lawn using my large 36" commercial walk behind machine. Also several weeks ago, I pushed out 3 yards of topsoil into some of our planter beds getting ready for compost. Topsoil is HEAVY, and the wrist really felt it. Then, starting the Saturday before last, and finishing this past Sunday, all told I pushed out 15 yards of compost into all the beds. Yes my wrist REALLY felt all that. I have given it a break the past 3 days and started some exercises just today a bit. Lets see. Next our CLAP meeting was the first Saturday in May. A great success and time. I had buddies stay with me here and then we convened at Nancy Foley's house the night before. 8 of us packed her place for a sleep over, rather than the 80 minute drive on Friday and Saturday back and forth. It was a nice diversion to talk about something fun in all the crap we were dealing with. Also in all that, I also was working on our National gathering, Christmas Expo that will be in Ft Worth on July 16-18. Most of the Education and Planning effort finished this week. I am teaching 3 classes, and fortunately all my material was already done, only one class really needed a good dust off. A good article was written with some info in the Planet Christmas - Spring 2015 Magazine. Here is a LINK if you want to read about it. A list of the curriculum I helped put together can be seen HERE. So from here we have about 6 weeks to cruise into a weekend of talking Christmas. I soooo need that break. Tracy and I will spend some time with Christmas buds in Ft Worth for 3 days before Expo kicks off. In all the hullaballu, with us being now close to empty nesters, Tracy and I decided to buy a little Travel Trailer to spend some time camping and chilling. We got it right after her Mom passed away, and have yet to use it unfortunately due to our schedule. BUT! the maiden trip is this weekend. Starting tomorrow we join our friends to break in our abode on wheels in fabulous Kent, WA. Yes, Kent. In the KOA they have. It is close to home, and few biking trails, so Saturday will be a bike ride. We have been spending all kinds of time and money, decking it out, stocking it and getting it ready to go. We are looking forward to some time away with nothing much to do. There are some RGB lights planned for it, but they have not yet made it here to go on this trip. We CAN'T NOT have lights on this beast! So this Blog is really supposed to be about my Christmas Display. Well needless to say, not a lot has happened on that with a few minor exceptions. We have decided a direction for our RGB pixels for the failed Tree. No order yet, but discussions have been taking place with the vendor. We are waiting for some samples to test before we pull the trigger. I am going to try to add some bells. I have long wanted to do this, and my buddy Darren Huffty, the famed week 3 winner of The Great Christmas Light Fight, is giving me an assist. He and my neighbor Marti across the street were the catalyst for these. Frames are ordered, and being made, I need to purchase some new controllers and get them made. Some new rings were ordered and picked up that will retrofit on the Spiral and Tree within a Tree. Those need to be painted and fixed to those bases. I have a LOT to do with how the Tear Down! went from the end of last season. I probably have more on my plate than time, but we will see what we can get done. There is a few more Honey-Do's for the house, and a buddy of mine getting married this summer. So eventually sometime will have to get spent on the display. Wow, it just hit midnight, I did not think all this would pour out of me. I guess for now I will call it quits and post on Facebook that I posted this. I pray the rest of the year comes and goes without any more difficulty. Pray for us too. Oh yeah, I almost forgot, my primary home computer, the one I do MOST of my work on is in a state of disrepair. I ordered a new one (no time to build on myself) and am in the unenviable spot of having to get IT ready so I can START all my work for the upcoming Christmas Display Season. Yup, our lives are not ever without some sort of complication! Have a great Summer, more to come soon. Promise.


3-22-15 - We are hitting our stride getting into the off season routine. I have been working with a few fellow decorators attempting to iron out the situation with pixels for the twice failed RGB Tree. We have had some great discussions among ourselves and with vendors. The list is getting shorter and closer to making a decision. Hopefully in the next few weeks. I am going to move in a different direction for the carrier, and I am hoping that this too will help with making things faster. They say the third time is a charm, right? I certainly HOPE! so. Efforts have bee underway working on Christmas Expo and our local meeting, C.L.A.P. CLAP is May 2nd, and fortunately Lowell Fuher and Kevin Thomas has managed the heavy lifting this year with getting things managed. It helped a LOT. I had a bit of a mishap with the wrist yesterday. It was banged very hard in a slip/fall. It is the sorest it has been in a while. I fortunately get x-rays tomorrow. Both the doc and my Therapist are not going to be happy. I hope I did not create a set back. Taxes, argh! I spent most of today getting the end of year stuff cleaned up, all my stuff figured out to take to my accountant this week. Spring is here, and with that comes yard work. With the unseasonably warm winter, trees, plants and bushes started blooming last month! Well with that, the lawn started to wake up as well. I had to put a bunch of moss killer down, because it was bad this year. I had the gardener punch the lawn yesterday, and very soon it will need to be thatched, leveled or filled in area. One thing so far, is there has been no sign of moles since the last one I caught in November. I'd love it if they gave me a break for a season or 2, but I doubt THAT will happen. I have really not focused much on the display except to plan a bit. There will be NO new items this year. I need the RGB Tree, Ice Zee and the new roof outline in the show. My buddy and Great Chistmas Light Fight winner, Darren Huffty has spurred some changes I may try to attempt on the roof. We will see....... Thanks for checking in.


2-9-15 - Almost a month since the last update. So tonight I decided to get the website updated, and in some cases, fixed up. I did not realize some of the pages were as bad as they were. During the Season, one visitor offered free of charged to spiff and update the website, for FREE! She friended the Facebook page, we connected a time or two, and well, these days, nothing happens lickety split in my world. After the Season, I went to look for our PM's and dang! she un-liked the page and I lost all contact with her. A missed opportunity. Lesson there, in the moment, if someone makes you a hell of an offer, snag it right then and there. So for now we still have our antiquated site. Although, I still like the way this site looks and feels. Some have given me the same feedback. The Display is fully down and out of the yard, off the house. The garage and shed needs some organizational work, but things are mostly out of the way. The elves that helped were awesome. We finished up Superbowl Sunday getting the miles and miles of cords out of the yard. One of my best buds, Tom Lieb, who lives in Roseville, CA, and was also here the day I fell, came back up to help. Monday after the Superbowl, all the cords were in their bins or totes and at least out of the garage. Again, I am soooo thankful for the help. But, after all endeavors like what we just did, there is going to be more time next year in Set Up! while I try to find where everything is at! Things are tossed in bins and not fully marked. Nor are all the bins put away. The covered area next to the shed is packed full. OK so the wrist update. This week marks 11 weeks since the fateful fall. Today, I had x-rays and the first of my once a week therapy sessions. I also had to come clean with a confession to my PT Kristin, that I was on my roof yesterday. Tracy was not happy as was Kristin. I needed to get up there to put some Moss Out on it. There was a lull in the rain that has been pelting us for the past few days. Work is under way for our local C.L.A.P. meeting in May, and the team at Christmas Expo asked me to be a part of that team again. So I have told everyone that my role in those 2 events will be reduced this year to focus on healing the wrist, as October is only 8 months away. Lastly on our donation front. I finally got he numbers completed. We came in with donations, and the matching funds from my company with $6265. Outstanding given the shorten season we had. All proceeds will be sent off this week. So for now it is off to the hot tub for another session on my wrist. Thanks for stopping in, check back and see our progress during the year.

1-13-15 - Happy New Year! When I looked and saw nothing since Christmas, I figured I should take a few minutes and provide an update. The Season for us came to a close officially on the 4th. However, we did have an Encore! Thursday the 8th, and pictures were took on Friday the 9th. Saturday the 10th, 4 of our Special Elves came over to strike the Display. We have 2 days under our belt, and quite a bit down. There is a lot still out there, but 2 more weekends should do the trick. Upon looking back, I realize that I did not go much into detail of the "accident". Not that I want to provide gory details (as there are some), for those who may only touch this site, you were left in the dark. In the fall I took, I essentially fell about 9ft to the concrete in one of the highest traffic areas on our property. Right outside the side garage door, in front of all our garbage, recycle and yard waste bins, is where I landed. My left wrist had a major compound fracture, where my Ulna bone punctured the skin, severed an artery, ligaments, and muscle. In all the damage (I essentially pulverized my wrist). Where bone once was, nothing existed. The only bright spot in an otherwise tragic accident, is that the 2 nerves in your hand, were amazingly in tact, albeit pissed off from all the trauma. I spent 5 hours in surgery where my ace orthopedic surgeon, Dr. John attempted to piece the jig saw puzzle together that I gave him. Today, just about 7 weeks later, I can tell you he pulled off something short of miraculous. He had never in his career seen a wrist damaged like mine. I have a LOT of hardware now in my wrist. Plates, rods, screws. Dr. John then turned me over to his hand picked Therapist, Kristin. This duo, worked like hand in glove together on a plan so I could have function out of devastation. Both at points in the Season, brought out their respective families to witness what they could only see in their minds eye from my descriptions. They came, they saw, they understood, and got "it". I was in therapy 2 times a week since I got out of the hospital. I saw Beck at just about every therapy visit (even outside my appts with him). I will owe life to them. As of yesterday, I am in my 5th apparatus on my left arm. Only one week was I in a full cast. They were aggressive on therapy, but cautious at the same time. I now have a brace to wear outside of the house. I spend 30 minutes or so 2 times a day in our hot tub doing work on things. Progress to date is ahead of where they thought I would be months from now. There is a LONG way to go yet. Feeling has not fully returned to thumb, index and middle fingers. Scar tissue prevents me from making a fist normally. I can get close only after working one of my 5-7 sessions a day on my wrist, hand and fingers. A LONG way to go. OK enough about me. December was a blur, literally. I thank one of my best friends, Bruce Lobree for pitching a hand on Christmas Eve. One of our busiest nights, and one I had and can get no volunteers. It rained, and was cold, which worked in our favor, as by 9:30 the crowds were thin enough we both called it a night. Our RGB Tree failed for the second year, although after about a week I disguised it and it looked great. Ice Zee never made it out of the garage, much to Tracy chagrin. With all that was bad of the Season, then, after 3 hours working on a "Picture Sequence" so I could get some great shots of our huge success for the year, the Icicle Tree, the sequence turned out to be corrupt. Never fails. We got some pictures, and will work to pick the best ones to post, but alas. The Icicle Tree was better seen live for sure. It was marvelous. The Display had its weak points, a few gremlins, and typical light failures, but all in all, it was one of our best Displays to date. The yard juggle, the new additions, the Icicle Tree vignette, the East yard vignette, all turned out great. No one noticed the little flaws. I have 8 months to get my wrist to a point here I can start Set Up! in October. There will need to be a lot of work fixing things. I have a light order that has to be turned in, in 3 days. I need to take it easy and heal. Work, family, health. I am going to have to adjust priorities this year, and stick to it. Sorry for the length of he post, I could go on, and on, but the hot tub awaits for my night session. Bless you for getting to this point.